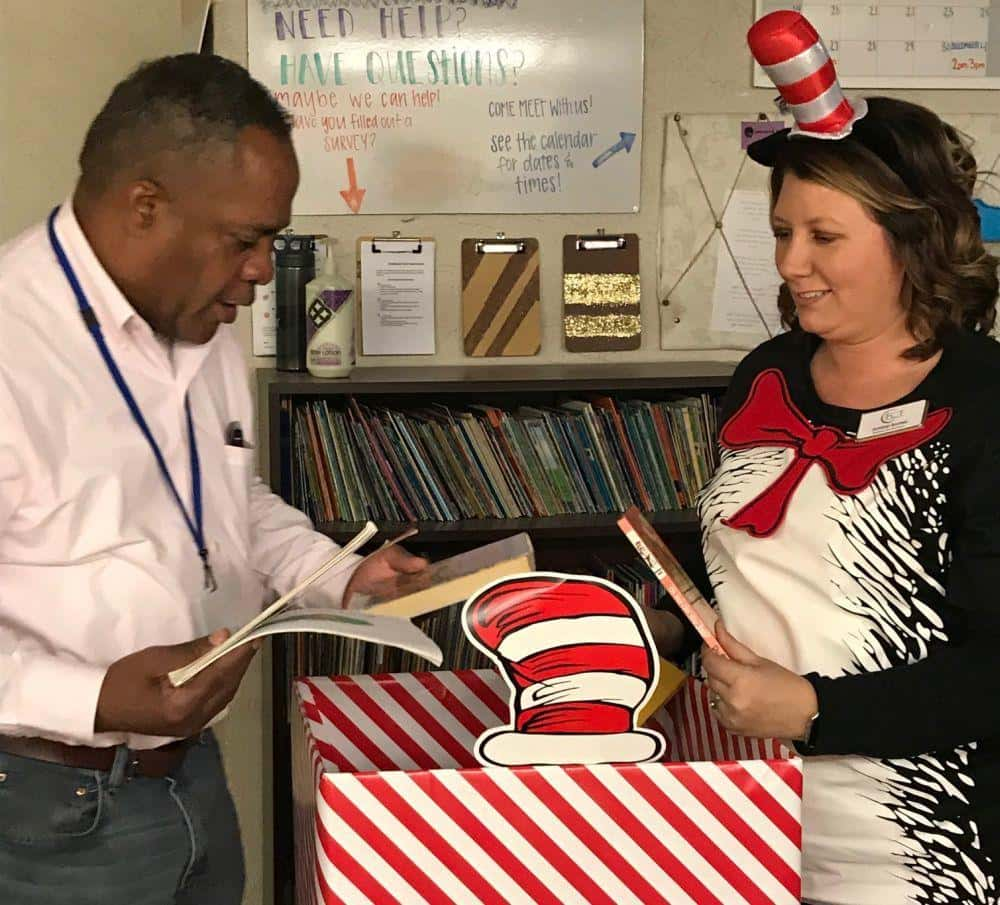 The staff at First Community Title decided to celebrate Dr. Seuss' Birthday with a book drive.
On Friday, those books were delivered in a red and white striped box by Amber Bartek of First Community Title, to the learning center at Wayman Manor Apartments.
Bartek embraced the style of a fashion forward Seuss with a headband that included cat ears and a miniature "Cat in the Hat" hat.
Gill Hollie, education coordinator for Temple ISD afterschool centers, was on hand to accept the books.
In 2016, during the United Way of Central Texas Day of Caring, Temple school district personnel put together a library in the learning center at Wayman Manor Apartments in East Temple.
The titles on the shelves include "Lionel in the Winter," "Two-thousand Pound Gold Fish," "The Real Mother Goose," "Gallo and Zorro," a story from Mexico about a rooster and a fox, and "A Little Too Tall," a story about a pink ostrich.
Hollie said the students use the library, especially when meals are served when they are out of schools during the holidays, spring break and in the summer.
The meals draw youngsters from throughout the neighborhood.
A couple of families will show up the first day, by the second day or third day the 12- and 13-year-olds will turn up, Hollie said.
"They'll linger around and wait until the little kids leave before they select a book and leave," he said. "We even have some parents come in looking for something to read."
Some meals are donated from Churches Touching Lives for Christ and volunteers will prepare it, Hollie said.
Sometimes Dominos, Pizza Hut and Golden Corral will donate meals.
"I don't think people realize the needs in the community," Bartek said. "There's not a lot of support."
The book donation effort was an internal project and a trial run, she said.
"We'll probably catch you at the start of school when we're looking for school supplies," Hollie told Bartek.
Several school districts — Belton, Temple, Killeen and Salado — in the area benefited from the book drive, Bartek said.
"We collected more than 300 books and divvied them up," she said.
First Community has 32 employees in four offices in the area. The company opened up the book drive to its clients, including realtors and lenders.
"A lot of our employees donated books that were in their house and some purchased new books from Amazon," she said. "We had a lot of fun and we'll probably look at doing this again."
— TEMPLE TELEGRAM