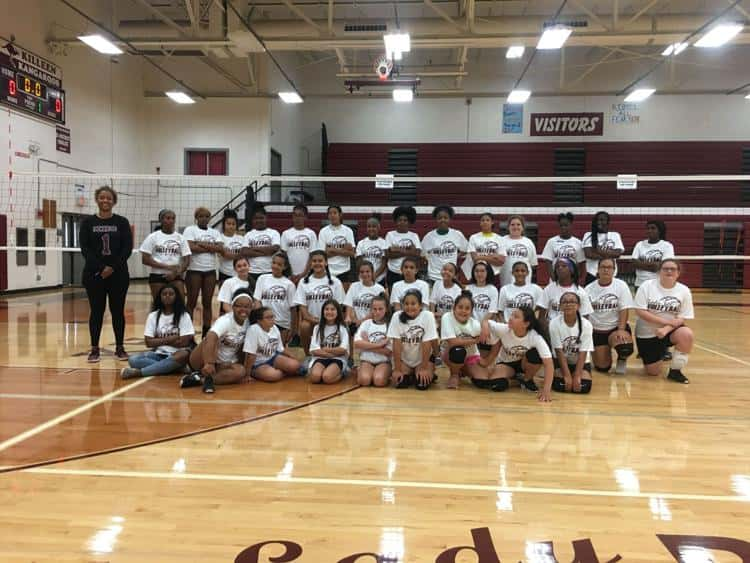 While many students enjoyed the start of summer vacation, the Killeen High gym was full of girls participating in the Lady Roos volleyball skills camp Tuesday morning.
"I"m glad all these girls came," said Killeen volleyball coach Crystal Bennett. "I was very surprised because we didn't have a link or something that they could go through. They actually had to come here and register yesterday."
With a group of 31 campers, the Lady Roos had two courts going in the varsity gym with one court for girls entering the fifth through seventh grade and the other for incoming eighth and ninth graders.
"They're just so enthusiastic," Bennett said of the fifth through seventh graders.
And while many of the younger girls are still learning and developing the basic skills, they're commitment to the game did not go unnoticed.
"It was my first time working with fourth, fifth and sixth graders," Bennett said, "but I had a good time."
The two-day camp also gave Bennett and her staff the opportunity to teach those girls interested in coming out for the high school team a chance to learn more about the game.
"We taught them higher-level skills used in high school play," Bennett said. "It's definitely a benefit and they also got to see the difference between middle school and high school volleyball. It's a big difference.
"Most of the girls didn't know what position they played, so we had to go through the positions on the court — all the different playing positions — and we taught them all the skills, from passing, setting and serving."
Although the incoming freshmen who played in middle school have experience with basic plays, the Lady Roos skills camp aimed to teach the girls as much as they could learn about the game of volleyball.
"I was really happy about their enthusiasm," Bennett said. "They really wanted to learn. They took all their critiques and they tried everything that we asked them to try.
"I saw some girls who are coming to our school next year, so I invited them to come to practices this summer as well as to our team camp in July."
— KILLEEN DAILY HERALD