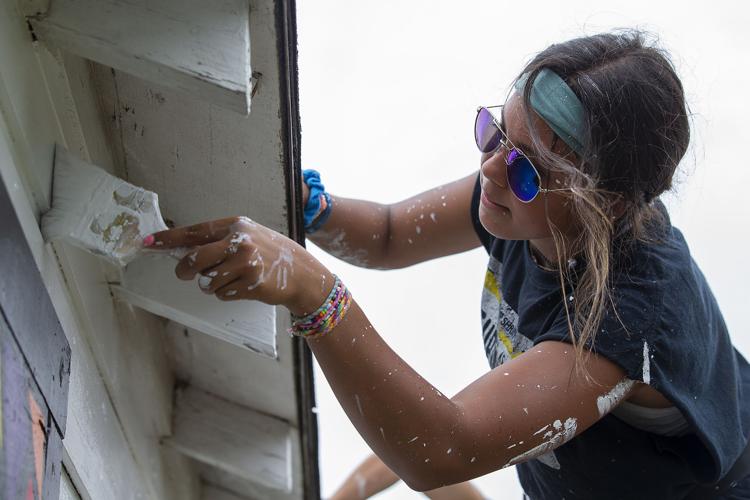 More than 250 students and volunteers from Memorial Drive United Methodist Church in Houston are spending a week of their summer vacation in Cameron for a Workcamp mission trip.
The group of nearly 170 high school students, plus about 30 college students, the entire youth ministry staff, some clergy and other adult volunteers arrived in Cameron with all their tools and equipment on Sunday and began working on various projects on Monday.
Mark Bogart, director of youth ministries, said the group had no trouble getting to Cameron and getting their work underway.
The group was divided into work teams to tackle the various projects around town. Bogart said the size of each team depended on the size of the project.
 "We've got a few teams that have between eight and 12 people, and then we have one site that has close to 80 on it," he said. "So we've got sites of various sizes and numbers."
The biggest project involves renovating Cameron Grove Baptist Church on Austin Avenue. Other teams are working on projects at Mount Zion Baptist Church, True Love church community and several individual homes.
 "We've done so much," Bogart said on Tuesday. "We are working out at Amazing Grace Thrift Shop out in Buckholts, doing some sorting and we stained a deck out there. We're helping renovate and paint and roof a couple of houses."
He said the projects are still underway and everyone is working as hard as they can.
Bogart said they intend to have projects complete by Thursday, but a rainy forecast might throw a wrench in their plans. He said they're trying to kick it into high gear to make sure they fulfill everything they promised to do. He said they can roll with the punches, and the students are great about being flexible.
 "We're certainly hoping that it doesn't rain, but if it does we'll find something for everybody to do," he said.
High school senior Elizabeth Pfeil is participating in her third Workcamp mission trip.
 "Every year we have a lot of fun, so I came this year to help the people in Cameron and serve them through God and through my friends," she said.
Pfeil is part of the big team working on Cameron Grove Baptist Church.
 "The first day, there was an old carport that we were turning into a closed-in shed." she said. "So I was digging up weeds and taking out a wire mesh on the bottom so they could close it."
She said she also helped paint one of the sheds in the back.
Pfeil said the experience is really rewarding, especially working with people in her church she might not have been as close with. She's gotten to know them better through service, as well as making memories with her friends on the trip.
 "We hope we're helping as much as we can, and we're having a really great time doing it and meeting everybody in Cameron," she said.
— TEMPLE DAILY TELEGRAM