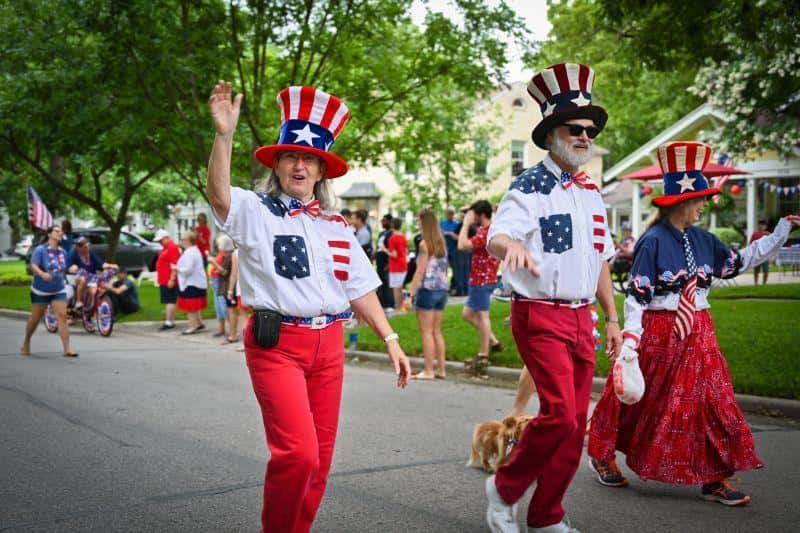 Hundreds of people gathered Thursday in Miller Park to for the city's annual H-E-B All American Family Fun Festival.
Many of those who came brought with them members of their family as well as lawn chairs, canopies and coolers to keep them comfortable while they waited for the night's activities and celebration. Activities for those showing up at the park included the park's splash pads, a live music performance by band Uptown Drive and a fireworks show put on by H-E-B.
With parking tighter this year than in previous years, due to Lamar Middle School's parking lot being closed to the public, those coming to the park had to trek farther.
Most that came out early in the day said they planned on staying for the fireworks show in the evening, but for some that wasn't an option. For Raymond and Amber Leroux it will all depend on if Amber, who is pregnant, will be able to last in the Texas heat.
While celebrating the Fourth of July with others as one big group is nothing new for Chris Ledezma and his wife Jene'e, Thursday was their first year celebrating with everyone else in Miller Park. This year, Chris got to the park at 7:30 a.m. to reserve a spot under one of the park's few covered picnic areas with a grill.
"We usually go to Milburn Park or Cedar Park, but this year I am just trying to put something together for the guys at work," Chris Ledezma said. "I got here at about 7:30 a.m. but I had never been here so I didn't know how many people would be here trying to set up."
For Melissa Molina and her husband, coming out to enjoy the Fourth of July at the park is nothing new for her as this was her third year coming out.
"This is the third year we have came (to the festival) and sat here in the same exact spot," Molina said. "It's good for the family, getting them out of the house for a little bit and not with the temptation of having to go get fireworks since they can see them here. It usually is hot out here but right now it is perfect."
— KILLEEN DAILY HERALD