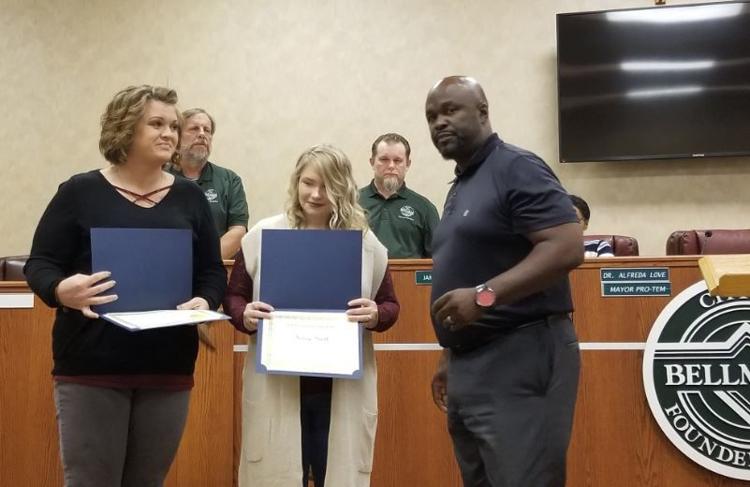 Waco and Bellmead police communication operators and a Waco dispatcher received lifesaving awards Tuesday night for their actions in July that got help to a convenience store employee who had been shot three times during a robbery, officials said Tuesday.
Bellmead Police Department communications operator Kelsey Smith, Waco Police Department communications operator Michael Blohm and Waco dispatcher Kim Thomas were recognized during a Bellmead City Council meeting Tuesday.
"It was very serious, very serious, but with the assistance of communication operators, who are usually the silent people that are never seen, the man was able to get the help that he really did need," Bellmead Interim Police Chief Danny Smith said. "They really did save his life."
While working in Bellmead dispatch, Kelsey Smith took a 911 call from a man who was hysterical and screaming for help. Smith was unable to get the caller to give his location, but she "was able to get the coordinates through the 911 mapping" and determine he was at Huggy Bear Food Mart, 2914 Gholson Road.
Smith transferred the man and relayed his location to Blohm in Waco, according to a Bellmead press release. Blohm sent the call to the Waco police dispatcher Thomas, who dispatched Waco units to the location Smith gave.
"We also would like to take the time to thank all communications operators for the job they do daily," the Bellmead press release states. "They are referred to as the silent Hero because you rarely see their face but they are the calm voice in the chaos, and for that they are the true first responders."
— WACOTRIB