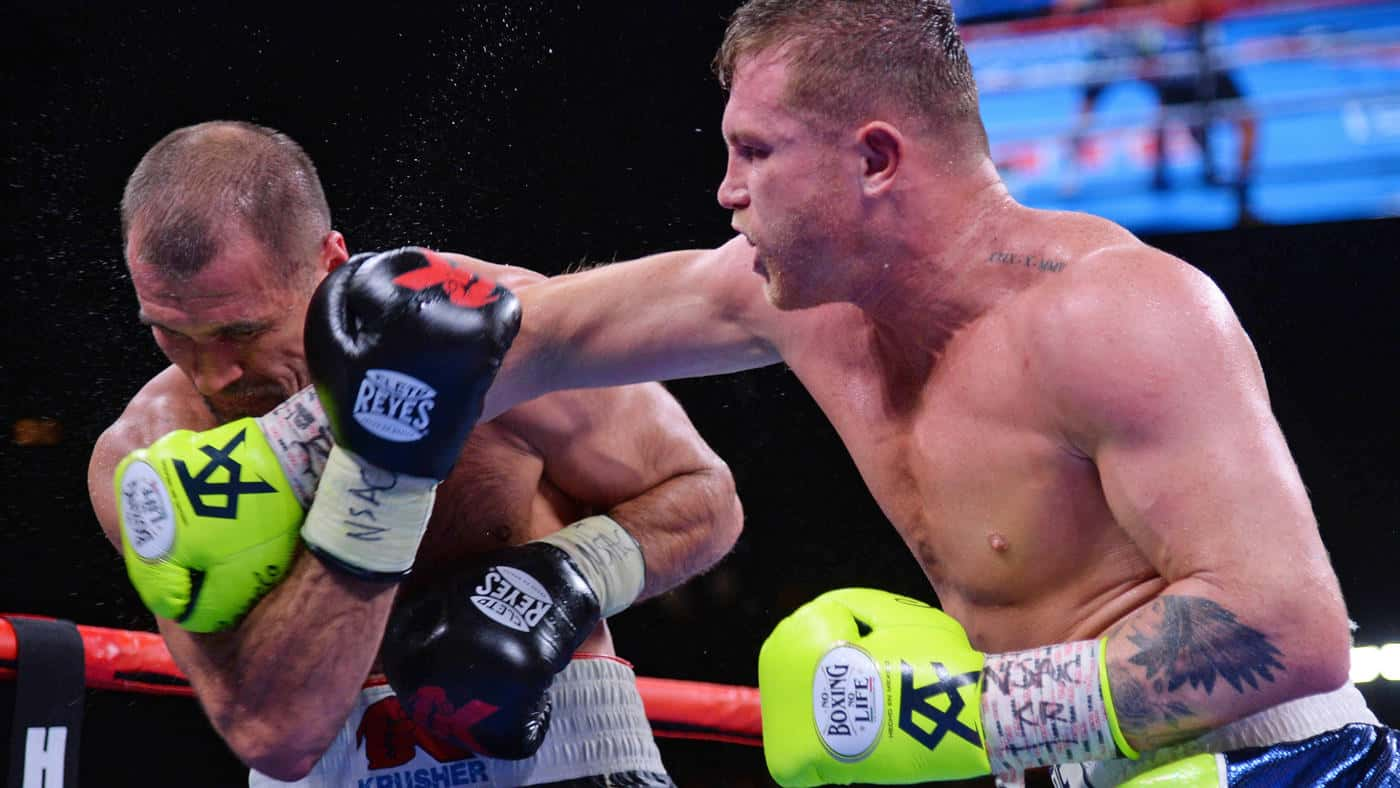 Canelo Alvarez's pursuit of history led him two divisions north on Saturday where the sport's biggest global star delivered a spectacular knockout in his light heavyweight debut. Alvarez (53-1-2, 36 KOs) overcame a strong technical performance from WBO champion Sergey Kovalev (34-4-1, 29 KOs) to score a highlight-reel finish in Round 11 with a vicious two-punch combo that left the Russian slugger crumpled into the ropes.
The pro-Alvarez crowd at the MGM Grand Garden Arena exploded into pandemonium as Alvarez, the unified middleweight champion and 168-pound titleholder, became the first boxer in history to hold world titles in three divisions simultaneously. The 29-year-old Alvarez also became the fourth Mexican boxer to win titles in four weight classes.
"I'm very thankful," Alvarez said. "This is just a step in my career and my history, and all I ask of you is to be patient because Canelo will make history. That is guaranteed."
Alvarez allowed the jabbing Kovalev, who held advantages of 4 inches in height and reach, to be the boxer while Alvarez patiently closed distance and looked to land hard counter shots, including a focus to the body.
"The plan overall was patience, that was basically it — to have patience," Alvarez said. "We knew it was going to be five, six rounds and it was going to take some time for me to get him. But honestly, he's a great fighter. I'm new at this weight, new in this division. Much credit to him, he's a great fighter, but we stuck to our game plan. It was delayed a little bit but overall it was successful."
The finish came with the fight seemingly up for grabs in Round 11 as a hard combination backed Kovalev up to the ropes and Alvarez finished off his 36-year-old opponent with a left hook and right cross that dropped him along the ropes. Referee Russell Mora instantly waved off the fight at 2:15.
Judges Dave Moratti and Julie Lederman had Alvarez leading 96-94 at the time of the stoppage, while Don Trella had it 95-95. CBS Sports also had it 95-95 in our scorecard below.
After the fight, Alvarez was noncommittal regarding which weight division he will compete at moving forward. Asked about middleweight rival Gennady Golovkin, whom Alvarez's critics thought he ducked to avoid a trilogy fight this fall, Alvarez seemed to slowly be coming around.
"I have said it before. It's not really a challenge to me. We've fought 24 rounds, and I beat him. It's not really a challenge for me, but if it represents business, why not?" Alvarez said.
With the win, Alvarez has made a case to be considered for the top spot on most pound-for-pound lists. This caps a 12-month stretch in which he has captured a secondary super middleweight title, unified belts at 160 pounds and won a light heavyweight title.
— CBSSPORTS