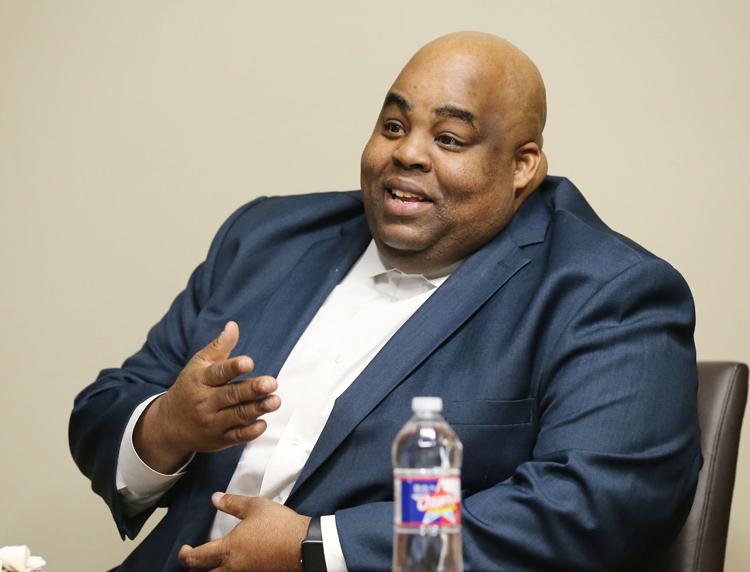 The Marlin City Council voted unanimously Tuesday to hire former Waco Independent School District Superintendent A. Marcus Nelson as a consultant to study the possibility of creating a charter school if the embattled Marlin school district closes this spring.
Nelson, the only applicant for the position, will receive a stipend of $10,000 to help the city file an application for a charter school, Mayor Carolyn Lofton said. The charter school idea is a backup plan in case the state shuts down the district after this school year.
Nelson's experience in turning around schools, creating charter schools, being a voice for students and advocating for the education system resonated with council members, Lofton said. Nelson helped create Transformation Waco, a five-school charter system that partnered with Waco ISD to ensure those schools remained open when they were on the brink of state closure in 2017.
"We were blown away. We felt privileged to be in his presence," Lofton said. "With his credentials, his background, his experience, his expertise, I feel honored and privileged that he's willing to come to a district like Marlin and help us to create something better for our students. God is purposeful. I believe God puts people in the places where he wants them, and maybe he created this situation for him to come here because we need him. Our students need him."
The fate of Marlin Independent School District has been uncertain for years. The district has not met state academic standards based on standardized exam scores since 2010, longer than any other Texas school district.
Since then, the district's student population has shrunk by more than 200 students, as more students transfer out of the district each year. The Texas Education Agency intervened in an effort to improve student academic performance, beginning in 2015 with an agreement between the agency and the district to keep Marlin ISD open, despite failing standardized test scores. It replaced Marlin's board of trustees in 2017 with a state-appointed board of managers.
In November, the board approved another abatement agreement to keep Marlin schools open for at least one more school year. The district also is overseen by state-appointed interim Superintendent Jean Bahney and conservator Diana Vaughn.
Nelson's troubles
Nelson served as the Waco ISD superintendent from June 2017 until he resigned last March, two weeks after his misdemeanor marijuana possession arrest in Robertson County.
A state trooper arrested Nelson on March 6 after stopping him for driving in the passing lane of U.S. Highway 190 outside Hearne, about 55 miles southwest of Waco. The trooper smelled marijuana, which gave him legal cause to search Nelson's vehicle, and found less than 2 ounces of marijuana in the passenger area, according to an arrest affidavit.
Nelson, 47, was booked into the Robertson County Jail in Franklin and released the next day on his own recognizance.
A week later, Nelson entered a plea agreement with the Robertson County District Attorney's Office to have his misdemeanor marijuana possession charge dismissed if he completed a 90-day diversion program.
Nelson said Tuesday night that he is drug-free and that his criminal record was expunged after he completed the pretrial diversion program. He has spent the past several months working with Texas Can Academies, a charter school system focused on serving students who struggled in the traditional high school setting.
Lofton said she does not expect Nelson's highly public arrest to be a problem for students.
"For most of the students, I don't think they're going to know that, and it's not going to matter to them," she said. "But I hope that it sends the message that we fall down but we get back up. And when we get up, we're stronger than we were before we fell."
Nelson said he feels honored the city of Marlin has given him an opportunity to prove himself. He has accepted he was wrong for possessing marijuana last year and that it is time to move forward. He has been an educator for 25 years, serving as a superintendent for 10 of those years.
His first steps will be meeting with the Texas Education Agency and state Education Commissioner Mike Morath, Nelson said. Then he plans to meet with Bahney, Marlin ISD's interim superintendent, and explain to her how the Transformation Waco partnership works and other charter options.
City Manager Cedric Davis said Morath told city officials last month that closing Marlin ISD this spring is an option the state is considering.
"For the city manager and the city government, that's deemed unacceptable. There cannot be a situation where there is no public school opportunity for the kids of Marlin," Nelson said. "They have to have a choice. They may choose to go to Chilton. They may choose to go to Riesel. They may choose to go to Groesbeck, and those are all challenges that we're going to have to consider. But that purple and gold, that Bulldog mentality in this town, that's serious, and it means something."
Nelson's experience
Since working with Texas Can Academies and helping establish other charter school models, Nelson said there is no need to reinvent the wheel in Marlin, only to protect what is already there, even if that means creating better or different schools. While he worked in the Laredo school district, Nelson helped create the Hector J. Garcia Early College High School at Texas A&M International University, and he helped establish the Judson Early College Academy in Universal City, on the outskirts of San Antonio, while working in Judson ISD.
"This is not something where we're talking about coming in and starting from scratch. We're talking about taking the best of what's in Marlin and building off it and totally changing things that are not working," he said. "It all starts with what we do with kindergartners and what we graduate in 12th grade. At the end of the day, it's all teaching and learning. We really have to come together and make sure that the future of public education in Marlin, Texas, is protected, and that's my role."
The students of Marlin and the work that has to be done to create quality public schools in Marlin is Nelson's focus now, he said.
"There's kids in Marlin who come from two-parents homes, and they've been well taught and well educated and they're going to be very successful in life. Those kids deserve quality leadership, which I'm sure they get from their home," he said. "But there's other kids in Marlin that have made mistakes, that have fallen off track, and they need someone like me who brings hope and resiliency and clearly holds them accountable."
— WACOTRIB