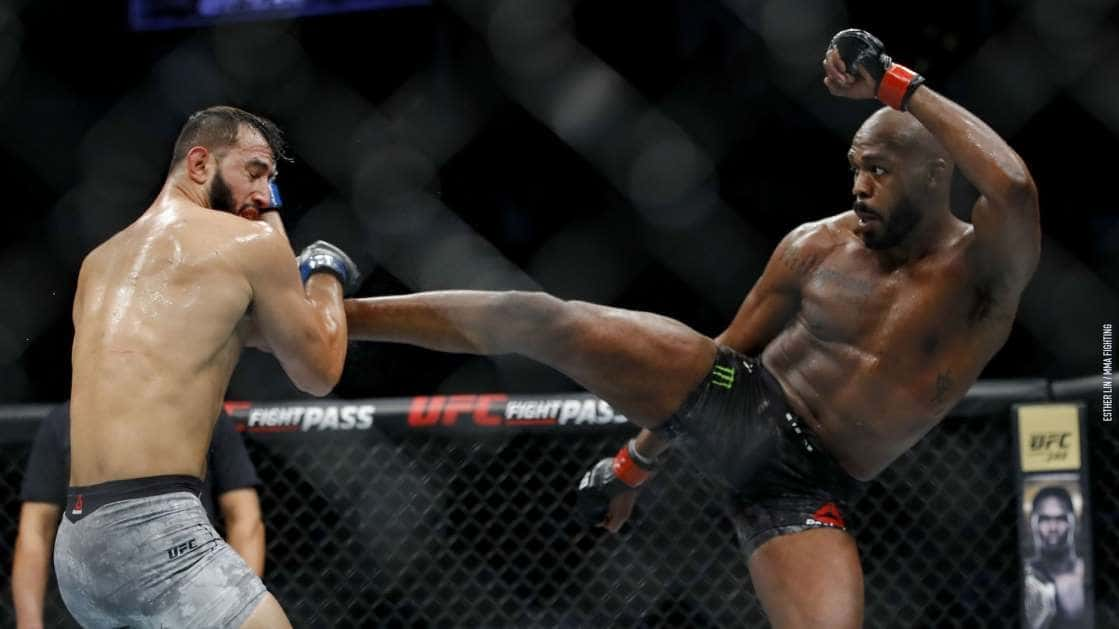 In the toughest defense of his title since he engaged in a war with Alexander Gustafsson back in 2013, Jones had to survive an onslaught from a game challenger in Dominick Reyes to ultimately win a decision after five rounds.
The judges all sided with Jones with the scorecards reading 48-47, 48-47 and 49-46.
Even Jones was astonished by Reyes' performance but he felt the final five minutes is what helped him hold onto his title for another night.
"I knew it was a really close right and I turned it on in the fifth round," Jones said following the win. "That fifth round won me the fight. Those takedowns won me the fight."
Perhaps for the first time in his career, Jones had to sweat out a decision with Reyes giving him everything he could handle for all 25 minutes.
There was no fear from 30-year-old light heavyweight contender during the opening exchanges as he came out guns blazing as soon as the fighters were released from their corners. Reyes was constantly targeting Jones with his best punch — a left hand that came at his head like a heat-seeking missile.
Reyes' ability to come forward with combinations put Jones on his back foot while attacking the entire body. Reyes chopped at the legs and then went back up top to the head and while Jones seemed to settle into a better rhythm, he was still struggling to mount any truly effective offense through two rounds.
ROCKED!

The most potent weapon at Jones' disposal was his constant pressure as he walked Reyes down, trying to test the conditioning of the undefeated challenger. In return, Reyes was more calculated with his strikes but he countered Jones with some nasty shots that definitely did more damage.

As the championship rounds got underway, Jones started to really ramp up the pressure while rushing forward with takedown attempts. Each time Jones got deep, Reyes was able to shrug him off but he was still exerting a lot of energy just staying upright.

By the time the clock was running down in the fifth round, Jones was stalking Reyes across the Octagon while cautiously trying to connect with his strikes. He had to be careful because even as he was exhausted, Reyes was still countering with fight ending power.

As the final horn sounded, Jones and Reyes both threw their hands in the air but only one man could walk out of the Octagon as champion. On Saturday night that man was Jon Jones.

⏰ WE GO THE FULL 25 MINUTES. WHAT. A. FIGHT.

Has Reyes done enough to dethrone Jones? Sound off! ⬇️ #UFC247 pic.twitter.com/iO9kiCHaai

— UFC (@ufc) February 9, 2020

Afterwards, Reyes explained why he felt he should have taken home the title but stopped short of shouting robbery after losing the five round decision.

"I thought I won [rounds] 1 through 3," Reyes said. "He was on me 4 and 5. I had him 1 through 3, I was all over him. I'll get better. I know I will."

Jones was a huge favorite going into the fight but he did not have an easy night at the office as Reyes gave him everything he could handle. The win did manage to eliminate another top ranked contender, although Jones stopped short of declaring if his next move would take him to heavyweight or if he will remain at 205 pounds.

"I'm going to have to talk to my coaches and figure out what I want to do," Jones said in closing.

— SB NATION