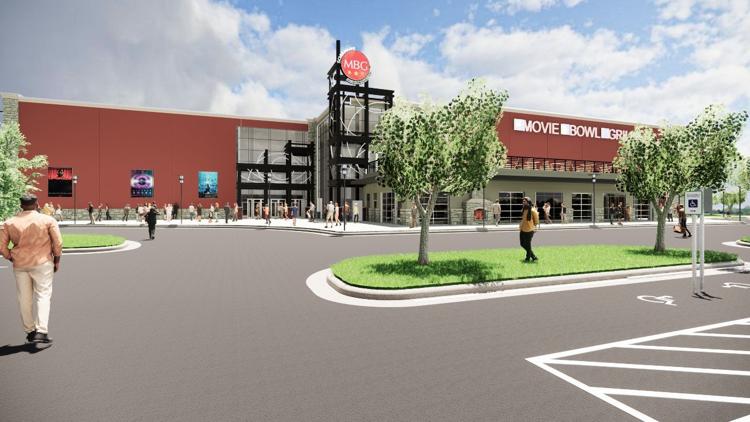 A 90,000-square-foot family entertainment center boasting eight movie screens with recliners, 30 bowling lanes and an amusement center comparable to Dave & Buster's but with the added attraction of ax throwing is in the works for South Loop 340 and Interstate 35.
Schulman's Movie Bowl Grille, valued at $25 million to $30 million in the city of Waco's calculation for tax-incentive purposes, will anchor a 300-plus acre development to include a hotel and conference center, high-end restaurants and retail space, Waco real estate agent Bland Cromwell said. He continues to pursue prospects on behalf of investors, including Waco businessman Gordon Robinson, who acquired the land from the John Bowden family.
A limited corporation, 58 Aggie Development, will own the Schulman-named complex, but the driving force behind it is Waco businessman Mark Schulman. Schulman once operated multi-screen theaters at Lake Shore Drive and I-35 in Lacy Lakeview and in space near Wooded Acres and Valley Mills drives in Waco.
He became known for mingling with attendees in the lobby and appearing before seated audiences to issue greetings.
The complex will feature an 8-screen digital theater with reclining seats and the option of food deliveries from Billy's Grille & Bar, an on-site restaurant serving steaks, pizza, burgers, salads and sides, according to a press release and Schulman's general counsel, Lauren Thorne.
"We make a lot of food from scratch, using homemade sauces," Thorne said. "It is not a typical concession. It is a dining experience. You order at the main concession area, take your seat, and we deliver. Meals are prepared in the restaurant. The same menu is available at both places."
Schulman has opened other Movie Bowl venues in Corsicana and Bay City and most recently in Sherman, where a formal grand opening was held May 31. The Sherman location, at 75,000 square feet, is smaller plans for Waco.
A Waco contingent that included Cromwell, District 5 Councilman Jim Holmes and city economic development staffers recently visited the Sherman site.
"We were doing due diligence, looking at the place to see if it would fit in Waco. I was curious," Holmes said. "Waco's is projected to be bigger than that, but still it was impressive, with the movies, bowling, grill and games. There were people throwing hatchets at a target. I couldn't believe it. It's fascinating, and I'm impressed they want to bring it to Waco.
"It will be a great addition to our city. You can visit Magnolia, the zoo, the mammoth site, then spend the day watching movies, playing games and bowling. Sure, it's a ways off. There are $5 million worth of infrastructure improvements in the works. I want to make it clear the developers are putting up the money to build a road serving that area and others likely to be developed. We will provide allowances on taxes over eight to 10 years."
Councilman Hector Sabido, whose District 2 includes the zone to be developed, said he is excited about the entertainment options it represents.
"Evenings and weekends, there will be more to do," Sabido said. "People can choose. It's good for South Waco and the entire community."
The 16-screen AMC Galaxy theater on South Valley Mills Drive is not far away, though not in Sabido's district. He said he is not worried about AMC's future, though Schulman's project looms. He is confident Galaxy can rise to the challenge.
At Interstate 35 and New Road, NewQuest Properties proposes placing an entertainment complex anchored by a Cinemark movie theater. It is pursuing a Topgolf and another entertainment component, such as a Dave & Buster's or a Main Event. It has gone before the Waco City Council in pursuit of up to $5.3 million in tax incentives to recoup infrastructure costs.
The NewQuest project also would include retail and restaurant space on what is now 142 acres of undeveloped land north of Central Texas Marketplace and south of the Flying J travel center and Harley-Davidson of Waco.
The city's incentives would be rebated from property and sales taxes generated by the complex, which mirrors the deal with Schulman's.
"Both investors want to be in our community," Sabido said. "The incentives are appealing, safe for them and safe for the city. Reimbursement will take place over a decade based on the activity they produce."
The 8,000-square-foot amusement center at Schulman's development would include arcade games, laser tag, ropes courses, virtual reality games, ax throwing, pool tables and meeting rooms, according to the press release. Thorne, Schulman's general counsel, said ax throwing is becoming a popular stress reliever.
Participants must be at least 11 years old and accompanied by an adult. She said ax throwing coaches will be available, and leagues will form.
The movie theaters will have reserved seating for 200 to 250 people. Pricing will be comparable to that in Sherman, $8.50 to $9.25 per person.
Cromwell said the Schulman's project would take 30 acres and should spur interest in the adjacent land. He said talks continue with national-brand hotel chains, and overtures to high-end restaurant chains "have gone beyond conversation."
"I know some people have been ragging on the city about this project, but I think it has been creative and innovative in coming up with an incentive package," Cromwell said. "This obviously is the best tract of vacant land available on the interstate from Minneapolis to Laredo, and the city knows it."
The city is offering tax breaks valued at up to $5 million in exchange for upgrades to streets, drainage, water and sewer utilities, lighting and landscaping. The breaks would be capped at 70% of those costs.
The city included a stipulation that work start on the entertainment complex by July 1, which is Monday, Economic Development Executive Director Melett Harrison said. The city also wants the entertainment venue completed within two years.
Thorne said construction should wrap up in 12 to 15 months, meaning the bowling lanes and ax throwing attraction would arrive next summer.
Dallas-based Hodges Architects: Entertainment Division is the project's architectural firm. Walker Partners of Waco has been retained to oversee civil engineering related to the site. Groundbreaking is in July.
"Are these dueling projects?" Harrison said of the Schulman's and NewQuest developments. "I would say both are very confident."
— WACOTRIB