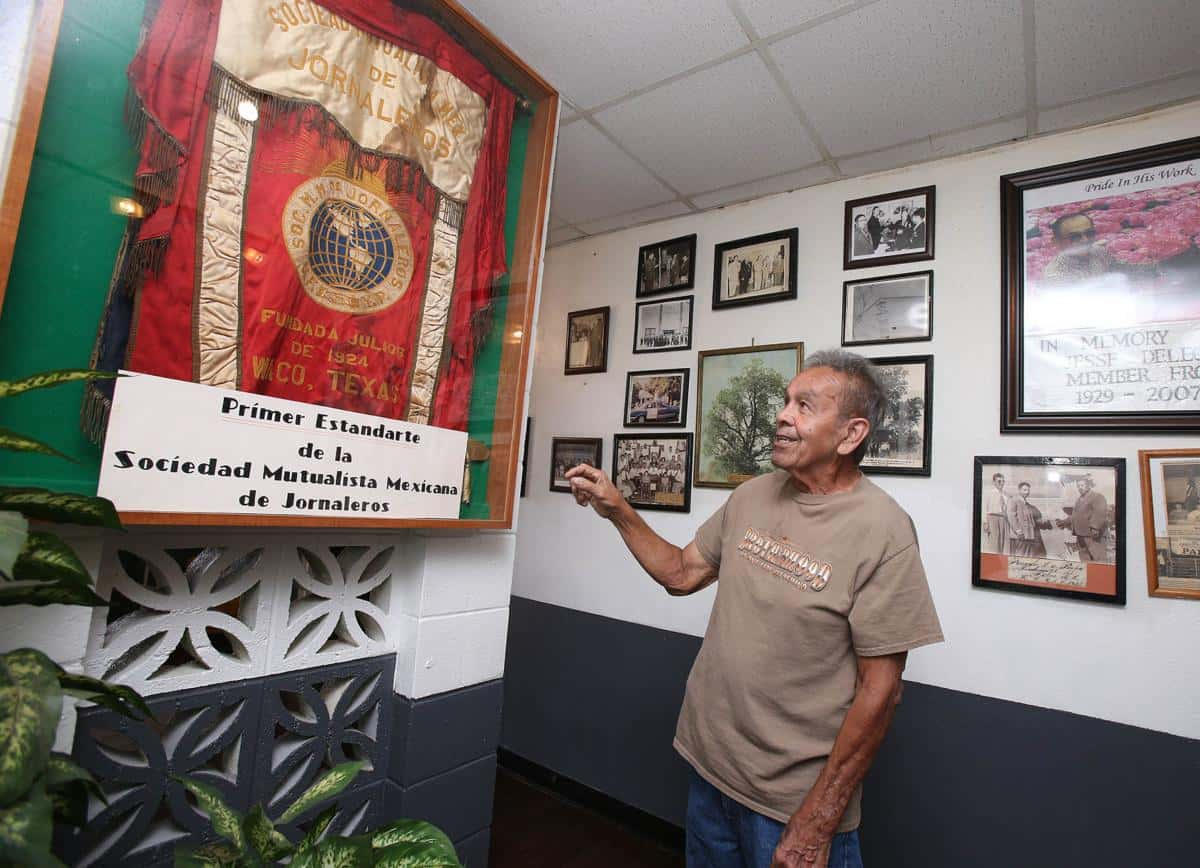 The big 100th birthday comes in five years, but even at 95 years, Waco's Sociedad Mutualista Mexicana de Jornaleros is giving members plenty to celebrate.
For most of that time, the Sociedad Mutualista Mexicana de Jornaleros — Spanish for the Mexican Mutual Society for Laborers — has been known as the Mutualista and identified with its building at 2214 S. 15th St., Mutualista Hall. Others have shortened the name even more to "the Mojo," particularly during the years where it was a regular performing venue for local rock and rhythm-and-blues bands.
What hasn't shortened is members' willingness to help others in the Hispanic community, whether through scholarships, toy drives, money for medications or providing a reasonably priced space for funeral receptions, weddings, Dieciseis fiestas and quinceañeras for families' 15-year-old daughters — a willingness that has spanned nearly a century in Waco.
"We still continue that tradition," said Mutualista President Louis Fajardo, who's been with the organization for 11 years, but has boyhood memories of playing near the organization's earlier location on Second Street.
July 6, 1924, is the official date the Waco Mutualista was founded, but members will celebrate the anniversary Saturday at the hall, beginning at 4 p.m. The program will feature the lighting of a unity candle in memory of past members, a meal and the presentation of the member of the year and the Queen of Mutualista Hall, University High School graduate Samantha Vidana. At 8 p.m., the Tyler band Conjunto Dispuesto will play a free dance open to the public.
The Waco Mutualista formed at a time when day laborers, workers and farmers often formed mutual aid societies to cope with the expenses of funerals, medical emergencies and other unexpected events beyond a family's ability to pay.
In a 1983 interview with Baylor University's Institute of Oral History, former Mutualista president Tomas Arroyo recalled the story of its founding in 1924, when 37 farmers and cotton choppers assembled under a tree and agreed to create a volunteer body to aid Spanish-speaking community members in need.
The original Mutualista started on Bridge Street, a few blocks away from St. Francis on the Brazos Catholic Church, which also formed in 1924 and proved a focus for Waco's growing number of Mexican-Americans settling in the Calle Dos neighborhood on Second Street. In their early years, both church and society coordinated their calendars to avoid conflicts.
Sixto Martinez, grandfather to the Mutualista's current treasurer Lydia Abbott, was one of those founders. Abbott's other grandfather Isaac Rodriguez joined shortly thereafter. She remembers as a girl sitting in her grandfather's lap to learn poems and nationalistic speeches in Spanish to proclaim Mexican Independence Day on Sept. 16, or Dieciseis de Septiembre.
Long-time member Paul Leos, whose parents were members for more than 20 years, worked with Jesse DeLeon, one of the founding members, and joined when he was in his 20s. Leos enjoyed the social life that the Mutualista enabled for a young man.
By 1952, the organization had outgrown its building and a new one was constructed at 315 N. Second St., complete with a concrete slab outside providing an all-weather surface for dances and fiestas.
The Second Street location, however, was affected by the city's urban renewal project during the late 1950s and 1960s which leveled and relocated much of the Calle Dos neighborhood. The organization found property on South 15th street and what became the current building was dedicated in 1964.
As was the case with its previous locations, Mutualista Hall hosted funeral receptions, community meetings, dances, quinceañeras, weddings, concerts, political rallies, boxing matches and more, with membership ebbing and flowing through the years.
Fajardo became a member of the organization 11 years ago, thanks to persuasion from his brother Ernest, the hall manager at the time. "We joined and everybody was happy," Fajardo said.
appy, too, are Leos and his wife Silvia, who have supported the Mutualista and its work for many years. "We haven't missed an anniversary (celebration) in 20, 25 years," he said.
The Waco Mutualista is one of a half dozen surviving mutualistas in Texas with others found in Houston, Fort Worth and San Marcos. The organization currently counts 36 members, Fajardo said.
Both Fajardo and Abbott proudly pointed to educational scholarships as part of the Mutualista's good work, added to funeral receptions, fund-raisers and a Christmas toys project, complete with a visit from Santa, that provides upwards of 30 bicycles and around 400 toys for local children.
"We used to have Easter egg hunts and Halloween parties, but then our children grew up," Abbott said with a chuckle.
Today's busy schedules makes it hard to find volunteers and Fajardo said that although the hall has more than a dozen weddings booked for next year, family budgets are straining to keep up with the rising cost of quinceañeras and weddings. "Those income tax checks that came back this year weren't that big," he said.
The loss of Waco's bilingual newspaper El Tiempo due to publisher Ernesto Fraga's declining health also complicates the hall's communications with its community, though social media is filling in to some extent.
Volunteers have kept the Mutualista going for almost 100 years and they're still pitching in. "I got up at 5 a.m. today to bake for Saturday's meal," said Abbott.
— WACOTRIB