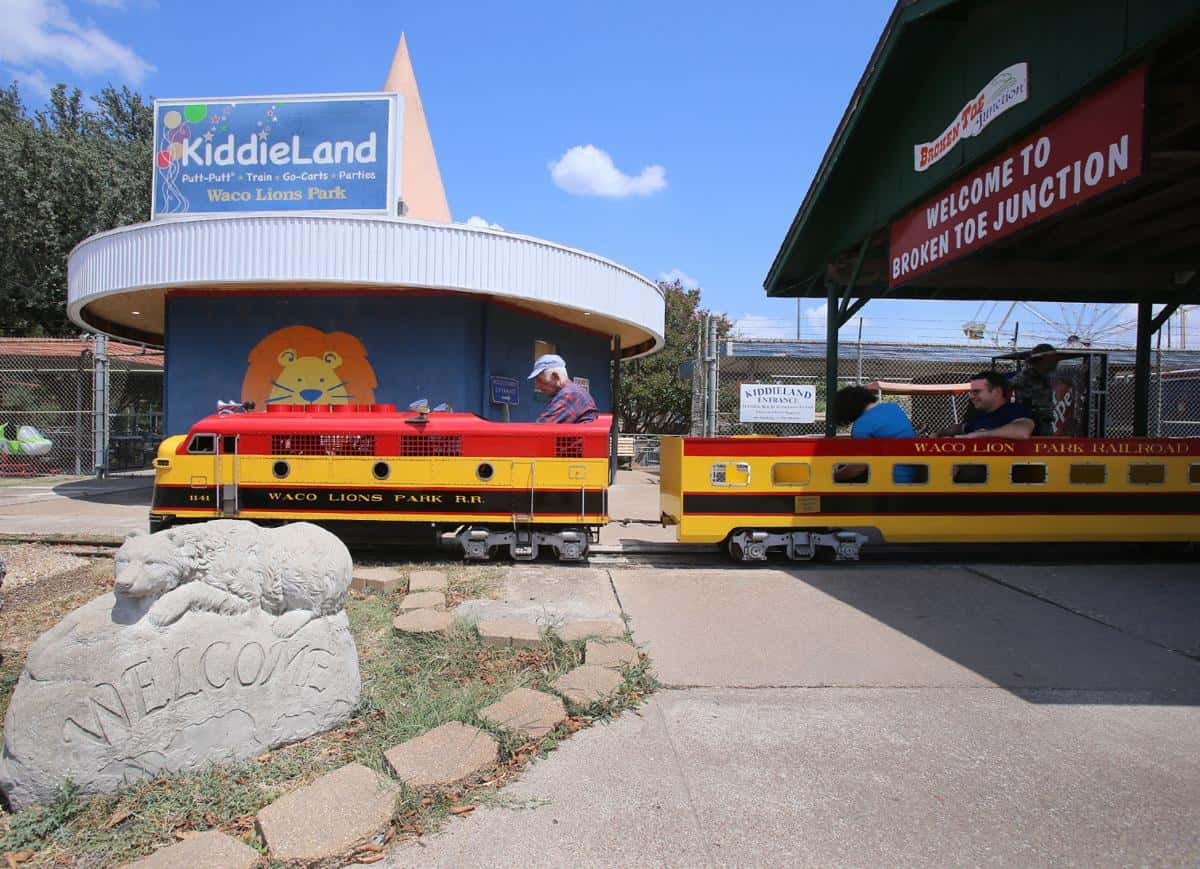 A small amusement park with deep Waco roots is seeking direction from the people who grew up with it and others who would like to see it thriving.
To that end, the Waco Foundation is helping circulate a survey to determine the fate of Kiddieland, the amusement park portion of the Waco Founder Lions Club's 11-acre Lions Park complex at 42nd Street and Bosque Boulevard, adjacent to the Extraco Events Center. The foundation has also hosted an informal meeting between park representatives, members of local nonprofits, city and county government officials, and other groups and individuals with ties to the park.
"There's an opportunity with this project," Junior League of Waco President Jana Hixson said. "People are coming to Waco from all over right now, and they're looking for a fun, safe place to connect with their families."
The Junior League is one of many local organizations that have supported the park over the years. The league donated a $145,000 carousel to the park in 2011 and continues to hold events there. Hixson said the park's throwback status is part of the appeal.
"It's cheesy to say, but it really is wholesome family fun," Hixson said. "My intention is that we have an opportunity to take what people love about it and make it into a fun, safe, inclusive environment."
Waco Lions Park first opened in 1952 as a ballpark meant for teenagers. Over the years, the park received updates in the form of tennis courts, a swimming pool, and Putt-Putt mini-golf course, with the eventual addition of Kiddieland in 1965. The park expanded to include go-karts, new rides and a train, and the swimming pool was converted into a short-lived bumper boat ride in 2001.
Lions Park Executive Director Linda Sirkel said while the park still hosts children's birthday parties, churches and school groups, it is common for people to pass the park and assume it is closed. The ongoing efforts to get community feedback are aimed at changing that, she said.
"The purpose of it is to get an idea of what the people of Waco would like to see at the park, to figure out what's working and what changes they'd like to see so that if we're able to raise enough funds, we go in the direction the public wants," Sirkel said.
She said the Lions Club has held fundraisers for the park less frequently than it once did, leaving the park to rely on ticket sales. Rides are $2 each, or six for $10.
"The park is for all children to come to, regardless of their economic situation," Sirkel said. "So we try to keep the ticket prices as low as possible for that reason. I feel like if we raise ticket prices, we'd be eliminating the very people the park is for."
The lack of funding has taken a visible toll. Today, many rides are visibly sun-faded and some no longer run. Sirkel said the rainy summer posed another problem. Some rides cannot run in the rain and must be completely dry before they can run again.
"When it's been neglected for a while, it's harder just to catch up," Sirkel said. "That's what we're battling right now."
The park replaced ride canopies this year, and Sirkel repaints attractions herself. A team of volunteers have dismantled the rocket ride and are slowly rebuilding it in phases, and the park's train is in need of new wheels.
"Everywhere you look, there's something," Sirkel said.
Sirkel, whose children, grandchildren and great grandchildren all visit Kiddieland, took over as director when her husband, C.C. Sirkel, died October 2017.
"We had him for several years longer than the doctors thought we would, and I am convinced it was because of this job," Sirkel said.
Lions Clubs throughout the country started opening parks similar to Kiddieland in the 1960s an '70s, but most have fallen to the wayside, she said. Others have scaled back, are operated entirely by volunteers or only open for a few months of the year.
Lions Club member Harvey Spross, who attended the meeting organized by the Waco Foundation, said the fate of the park depends in part on community response through the surveys.
"We want the whole area to be top notch and first class," Spross said. "The Lions Park and Den Complex board will make final decisions, but we'll be depending on them for suggestions and methods."
Lions Club Secretary Terry Sutcliffe said the club has invested about $1.5 million in the park over the decades, and members sometimes donate to the park independently. He said Waco's Lions Club, one of 23 originally founded in 1916, had about 250 members in its heyday, but that number has declined over the years to a low of about 70, before a recent member drive brought the number back up to 101.
The city of Waco parks department is helping to circulate the survey until the end of September, said Tom Balk, senior parks planner for the city.
"It seems like there's a lot of buzz and excitement," Balk said. "People have been sharing their memories about what the park has meant to them over the years. It's been interesting to see it through that lens."
— WACOTRIB