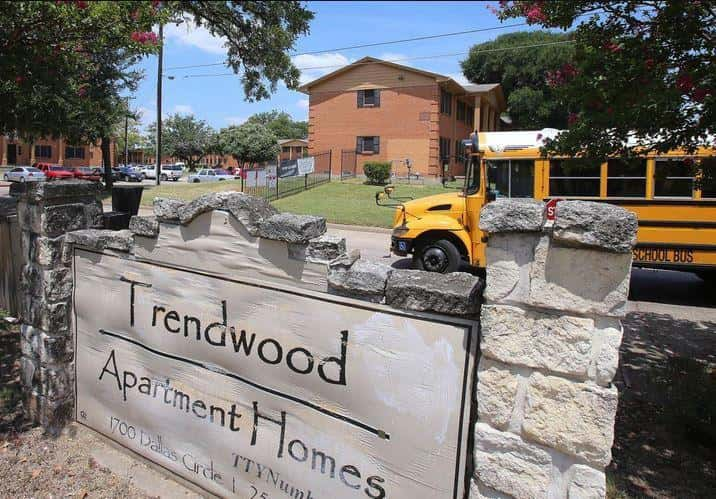 The city of Waco is considering legal action if the owners of Trendwood Apartments do not correct code violations the city found in 143 of the 147 units it inspected last month.
In a letter to the listed property owners last week, city attorneys warned they could file a civil lawsuit seeking an order to make repairs and pay civil penalties, and could file Class C misdemeanor criminal complaints for each violation. However, city officials hope no such action will be needed to improve the condition of the federally subsidized low-income complex with a total of 157 units, City Attorney Jennifer Richie said.
"Obviously we hope the property owner will comply voluntarily," Richie said. "What is really important to us is getting this property up to code, and we certainly feel a sense of urgency. But we want to see what the owner's response is."
Inspectors found 44 categories of violations in 143 units last month when code enforcement officers and Waco police canvassed the property at 1700 Dallas Circle, Richie said.
The first violation category listed in the city's letter states a structure is "so insanitary as to be unfit for human occupancy." The listed violations range from failure to prevent rodent or insect infestation to "failure to properly install and maintain electrical equipment, wiring and appliances in a safe and approved manner," and "failure to properly install and maintain plumbing fixtures in working order."
Calls to Trendwood were unanswered Friday. Emails to Dallas-based Trendwood Investors LLC's registered agents Ralph Perry-Miller and Michael Gillman were not returned Friday.
"We are certainly focusing on this apartment complex and the conditions of this apartment complex," Richie said. "Starting a Chapter 54 lawsuit is indicative of the city focusing on a problem and trying to get it resolved."
Chapter 54 refers to the section of the state's Local Government Code pertaining to enforcement of municipal ordinances, such as the city's building code.
Trendwood, built in 1963, is classified as a privately owned "project-based Section 8" complex. The complex contracts with the U.S. Department of Housing and Urban Development to screen and qualify low-income residents onsite for low-cost housing, rather than taking Section 8 vouchers.
HUD's Real Estate Assessment Center typically makes a physical inspection of each project-based Section 8 property every two years, looking only at a sample of units.
Trendwood earned 74 points out of 100 on its last inspection on June 5, Fort Worth-based regional HUD spokeswoman Patricia A. Campbell said. The complex earned an 85 in August 2012, an 80 in August 2014 and an 88 in August 2016.
A passing score is 60 or above.
Campbell said HUD would require property owners to immediately correct any "exigent health and safety violations" including nonworking smoke alarms, blocked exits or electrical problems.
She said she could not immediately provide a copy of Trendwood's inspection reports, but the Tribune-Herald is requesting the June report.
Marked as one of 16 low income apartment complexes in Waco, Trendwood was the focus of a police enforcement effort in July. The effort was a response to complaints from residents in the complex and the surrounding neighborhood and was intended to address the high police call volume at the complex, Waco police Sgt. W. Patrick Swanton said in a press release announcing the effort.
"What we know is that often times criminal behavior is brought into this area from nonresidents," Swanton said at the time. "Our officers will continue to make the safety and peaceful living for our citizens a priority. This type of partnership between law enforcement and the community is what our city is all about."
— WACOTRIB