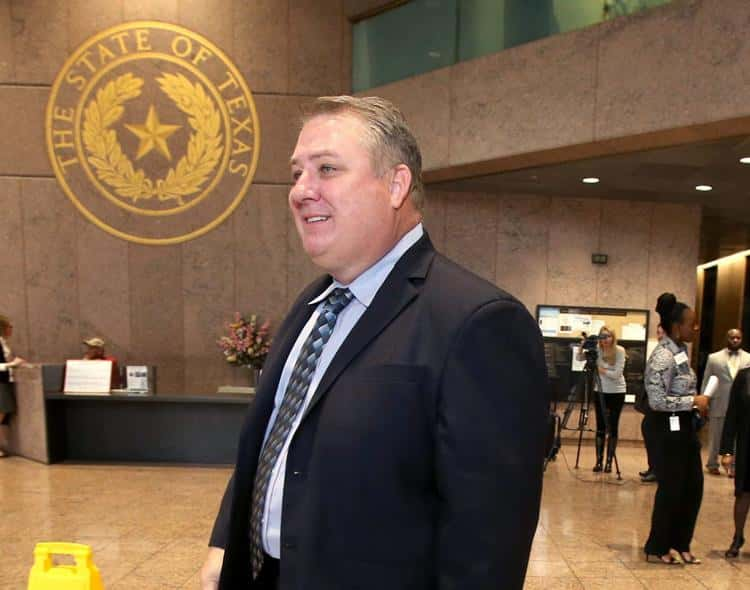 The Marlin Independent School District spent almost $68,000 to remove former superintendent Michael Seabolt from his position, including hiring an investigator and a large, Austin-based law firm to dig into Seabolt's duties and performance, and paying Seabolt while he was placed on leave.
The inquiry may have uncovered enough reasons to terminate Seabolt's contract, which would have ended in February 2023. Seabolt resigned Aug. 8, saying he wished to end a "costly termination process" in "which he is certain he will not be provided due process of law," according to his resignation letter.
But notes in investigator Ann Dixon's invoice indicate she uncovered information she felt the need to turn over to "proper authorities."
The state-appointed board of managers, which has operated in place of the district's elected school board for more than two years, suspended Seabolt with pay on June 5, after Texas Education Agency conservator Jean Bahney ordered the board to do so. At the same time, the board launched an investigation into his performance and the district.
A month later, the board hired the Walsh Gallegos Treviño Russo & Kyle law firm to investigate district affairs and superintendent duties. A month after that, the day before Seabolt resigned without any buyout from his $140,000 per year contract, the board voted to place him on unpaid leave and start the termination process.
State Education Commissioner Mike Morath installed the five-member board of managers in February 2017 after the district repeatedly failed state accountability standards, which are mostly based on state standardized test scores.
In January, Morath extended the appointment of the board another two years, citing a lack of improvement at the district.
In February, the commissioner once again revoked the district's annual accreditation status because of chronic underperformance. He also appointed Bahney as conservator at that time.
After Seabolt resigned, Morath appointed Bahney to serve as interim superintendent.
The Texas Education Agency declined to comment on why Bahney and the agency believed Seabolt needed to go, citing an ongoing investigation. The focus of the investigation is unclear, as the agency declined to provide further details.
Seabolt said by phone Friday that the commissioner told the board that the reason the board needed to get rid of Seabolt was because the district was not making progress fast enough.
Board member Danny Vickers deferred comment to board president Billy Johnson, who could not be reached Friday.
Marlin ISD paid Seabolt $28,496 while he was on paid administrative leave from June 5 until Aug. 7, the day before he resigned.
The district paid investigator Dixon $150 an hour, plus expenses including meals, hotel accommodations and transportation costs, according to a copy of their at-will agreement obtained via a public information request.
Dixon billed the district for 106.5 hours, totaling $15,975, according to a copy of her Aug. 12 invoice also obtained via a public information request. Dixon spent several hours traveling from Austin to Marlin, from Sisterdale to Marlin, and from Red Oak to Marlin.
In Marlin, Dixon attended meetings of the board of managers, interviewed staff members including principals and Assistant Superintendent Remy Godfrey. She also met with the Marlin Police Department, compiled documents for a "DA" and organized documents for "proper authorities," according to her invoice.
On July 5, Dixon spent four-and-a-half hours on the phone with Bahney. Her first day working for the district was July 2.
Dixon billed the district for 1,433 miles at 54 cents per mile, a total cost of $773.82, though the rate listed in their agreement is 50 cents per mile. For meals and hotels, she billed $401.74.
In all, Marlin ISD paid Dixon $17,150.56.
The district paid the Walsh Gallegos firm a $1,000 annual retainer, plus various hourly rates for attorneys, paralegals and associates at the firm.
In all, Marlin ISD paid Walsh Gallegos $22,081.88 from July 15 through Aug. 15 to investigate matters related to Seabolt.
The attorneys worked in conjunction with Dixon, analyzing information she obtained through her "fact-finding" mission "regarding concerns with superintendent performance," according to a copy of the Walsh Gallegos invoice. They researched reasons that constitute "good cause for termination" of Seabolt, which is one of the stipulations in his contract that would allow the board to terminate his contract.
A few examples of good cause defined in Seabolt's contract include failure to fulfill duties outlined in the contract, incompetence or inefficiency of performance as superintendent, neglect of duties, certain criminal offenses and failure to meet district standards.
On July 19, the attorneys held a telephone conference with Dixon and reviewed and analyzed a "draft of reasons and concerns for possible proposed termination" of Seabolt.
On July 24, the attorneys discussed and evaluated "possible discretionary reasons for report to the State Board for Educator Certification." The board is responsible for overseeing standards of conduct for educators.
On July 29, Seabolt's attorney and the Walsh Gallegos attorneys held a telephone conference "regarding possible terms for resignation," yet the firm continued to research and collate data on possible grounds to terminate Seabolt and place him on unpaid administrative leave. They also discussed a possible settlement agreement with board president Johnson, Bahney and Seabolt's attorney.
— WACOTRIB