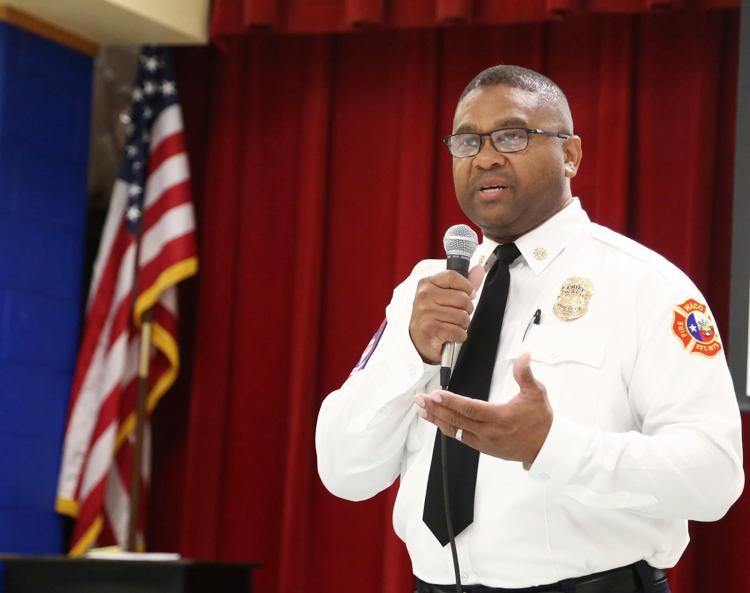 Waco Fire Chief Bobby Tatum announced Thursday he will retire at the end of the year, stepping down fewer than four years after he took the post and catching firefighters by surprise.
Tatum, 54, submitted a notice of his retirement plan to the city of Waco on Thursday, writing that "it has been an honor and privilege to serve the citizens of Waco for the past 3½ years." In a letter to all fire personnel, he wrote that he would not be leaving if he did not think he "was leaving the department in good hands."
"This decision was really based on the timing being right for me and my family," Tatum said in an interview. "We had goals we had set for a retirement date and things we wanted to accomplish when we came to Waco, so when the date started to approach us, we decided this was the right time."
Tatum has had a 35-year career in fire service, and Waco hired him in April 2016 from the Fort Worth Fire Department, where he most recently served as deputy chief in charge of fire prevention.
City Manager Wiley Stem III said Tatum has led the department in improving fire services during his tenure.
"Since he came to Waco from Fort Worth to be our chief, Bobby has developed a strong department that has improved the level of fire services the council and citizens of Waco expect," Stem wrote in a statement. "We respect his decision to retire, thank him for his service and wish him the best in the future."
Tatum is the first black person to serve as chief of the department, which has struggled to attract women and minority recruits.
When he was hired, the department had 203 civil service positions, with 14 filled by minorities. Officials did not have an exact current count available Thursday, but Tatum said the department still has 203 positions and minority numbers have not changed significantly.
He said he has promoted minority officials based on their accomplishments with the department and hopes he led by example.
"I was hired as the seventh fire chief in the department's 100-year history and the first African American to do so, so I got to fill that position with honor and integrity," Tatum said. "As far as diversity, we've promoted minorities in my tenure as a higher rank because of their dedication."
He said he is disappointed the department has not hired any women to serve as firefighters during his tenure.
Keith Guillory, a black firefighter who was promoted to a lieutenant with the fire marshals' office in 2017, said Tatum's community leadership has encouraged him to become a better public servant.
"I have learned so much from Chief Tatum," Guillory said. "He is the real deal. I try not to get emotional about it, but just the way he connected to the community, not only as a chief, but as a person. He has taught me so much about being an officer, even a minority officer and a leader in the Waco Fire Department and in the city."
Waco fire Lt. Phillip Burnett, president of the Waco Professional Firefighters Association Local 478, said he was surprised when firefighters received Tatum's letter Thursday morning. He said he thanked Tatum for new ideas he brought to the department and that replacing him will be difficult.
"It was definitely unexpected and we want to thank him for his service to the city of Waco, the citizens, the department, and the association and it is going to be something that we are going to work through to replace him together," Burnett said. "He had an open-door policy with myself and the association so we could always work through any problems that might have arisen in day-to-day operations where that had not always been the case."
During his time as chief, the department's work has improved its Insurance Services Office Public Protection Classification from a 2 to a 1. The classification indicates how well-equipped fire departments are to put out fires in their community, and a 1 is the best possible rating.
Tatum's retirement announcement came one day after the former 25th Street Theatre was demolished, making way for the planned new Waco Fire Station No. 6 and fire administration offices at at 1006 N. 25th St. Fire Station No. 6 is the second new fire station the city council has approved during Tatum's tenure.
The recently completed Fire Station No. 5, at 4515 Bagby Ave., is set to be opened to the public Oct. 25.
Tatum said he plans to stay in Waco after retirement and plans to travel with his wife as they prepare to celebrate their 25th wedding anniversary. Before his retirement becomes effective Dec. 31, he plans to  visit with each of his firefighters and thank them for their service.
"I feel very comfortable leaving the department in the hands of the administrative staff who are there now," he said. "We have a very good leadership team that I am confident will lead the department in a positive direction moving forward."
— WACOTRIB