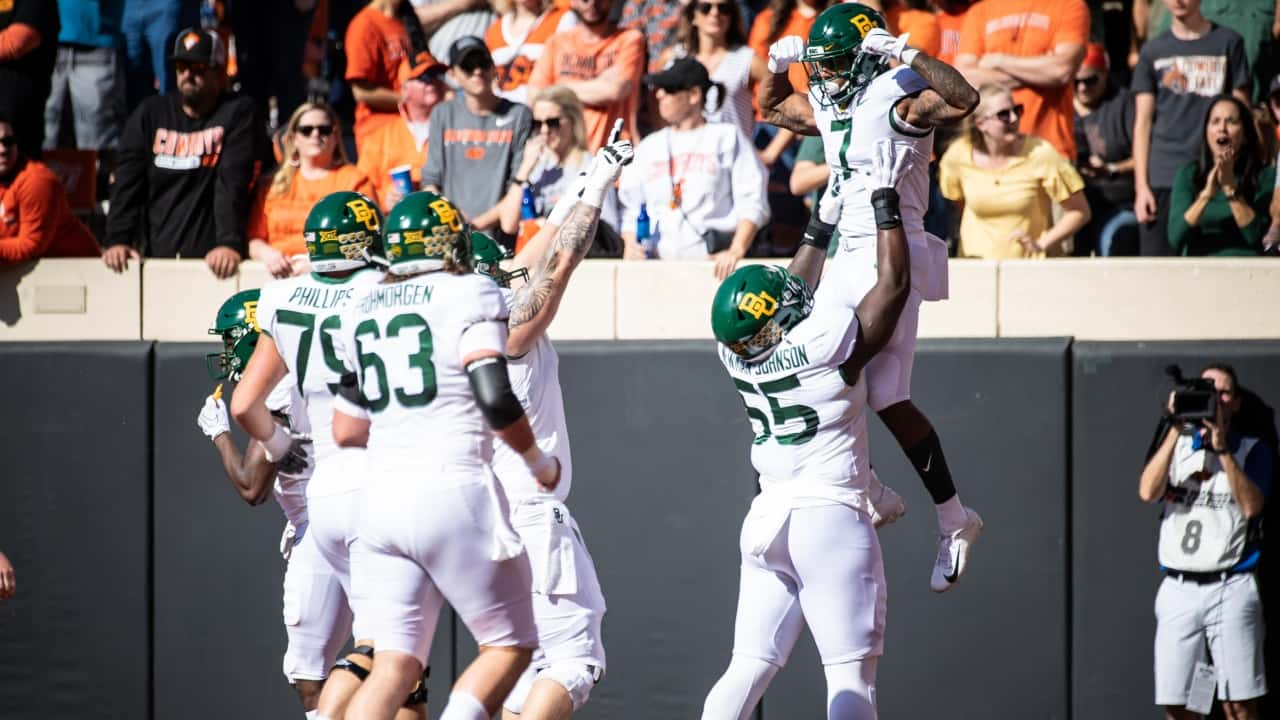 The Baylor Bears stunned the Oklahoma State Cowboys with a 45-27 victory.
---
Shot out of the gate: John Lovett shot out of the gate of this game on Baylor's first offensive possession. On his first touch, he took off for a 20-yard run. On the ensuing play, Lovett then took it 25 yards to the house to put the Bears up by 7 to start the game. In the first half, he finished with 5 carries for 57 yards and a touchdown.
Decisive Moment: Terrel Bernard's 20-yard fumble recovery touchdown changed this game. On 3rd and 5 with 8 minutes left in the game, Spencer Sanders lost the ball after Chidi Ogbonnaya knocked the ball out. Terrel Bernard then scooped and scored an easy touchdown to give the Bears a 38-27 lead. From that point, the Bears dominated the rest of the game.
MVP: Charlie Brewer was the all-around best player for the Bears in this game. He was cool, calm, and collected and lived up to his big game name. He finished with 312 yards on 13 of 17 passing attempts and a touchdown to go along with a pivotal rushing touchdown. He made big plays when it counted.
Key stat: After Baylor went down 20-10 in the 3rd quarter, the Bears outscored the Cowboys 35-7. After a tough first half and start to the second half, the Bears fired back with a flurry of big plays on both sides of the ball. The Bears forced a turnover on downs and two turnovers after they were down 20-10. They also managed to score a touchdown on two different plays for over 60 yards.
Game Notes:
Heading into the game, Oklahoma State led the head-to-head series 20-17.
Last season, Baylor beat Oklahoma State 35-31 with a last-second game-winning touchdown from Denzel Mims.
The last time Baylor beat Oklahoma State in Stillwater was in 2015, when Baylor was ranked 10th and Oklahoma State was ranked 4th. Baylor won the game 45-35.
Other than the game in 2015, Baylor only beat Oklahoma State one other time in Stillwater in 1939.
Game Summary
First Quarter
12:07 BAY: TD – RB John Lovett 25-yard run: Drive: 3 plays, 62 yards, 1:08 – Baylor 7 – Oklahoma State 0
6:37 OSU: TD – WR Jordan McCray 5-yard reception, DL James Lynch blocks XP: Drive: 13 plays, 78 yards, 5:30 – Baylor 7 – Oklahoma State 6
4:21 BAY: Turnover – RB JaMycal Hasty fumbles, S Malcolm Rodriguez recovers
Second Quarter
4:15 OSU: TD – RB Chuba Hubbard 2-yard run: Drive: 7 plays, 46 yards, 2:25 – Baylor 7 – Oklahoma State 13
1:32 BAY: FG – K John Mayers makes 28-yard field goal: Drive: 7 plays, 64 yards, 2:43 – Baylor 10 – Oklahoma State 13
0:20 OSU: Turnover – DB Kalon Barnes intercepts QB Spencer Sanders, returns for 18 yards
Third Quarter
9:35 OSU: TD – RB Chuba Hubbard 3-yard run: Drive: 8 plays, 45 yards, 3:25 – Baylor 10 – Oklahoma State 20
8:42 BAY: TD – RB JaMycal Hasry 5-yard run: Drive: 2 plays, 83 yards, 0:53 – Baylor 17 – Oklahoma State 20
2:36 BAY: TD – WR Josh Fleeks 64-yard reception: Drive: 6 plays, 93 yards, 2:55 – Baylor 24 – Oklahoma State 20
Fourth Quarter
12:55 OSU: TD – RB LD Brown 68-yard run: Drive: 5 plays, 93 yards, 1:53 – Baylor 24 – Oklahoma State 27
9:04 BAY: TD – QB Charlie Brewer 2-yard run: Drive: 7 plays, 75 yards, 3:51 – Baylor 31 – Oklahoma State 27
8:00 BAY: TD – QB Spencer Sanders fumbles, LB Terrel Bernard recovers, 20-yard return – Baylor 38 – Oklahoma State 27
5:13 BAY: TD – RB JaMycal Hasry 73-yard run: Drive: 1 play, 73 yards, 0:12 – Baylor 45 – Oklahoma State 27
3:52 OSU: Turnover – QB Spencer Sanders fumbles, LB Jordan Williams recovers
— SICEM 365