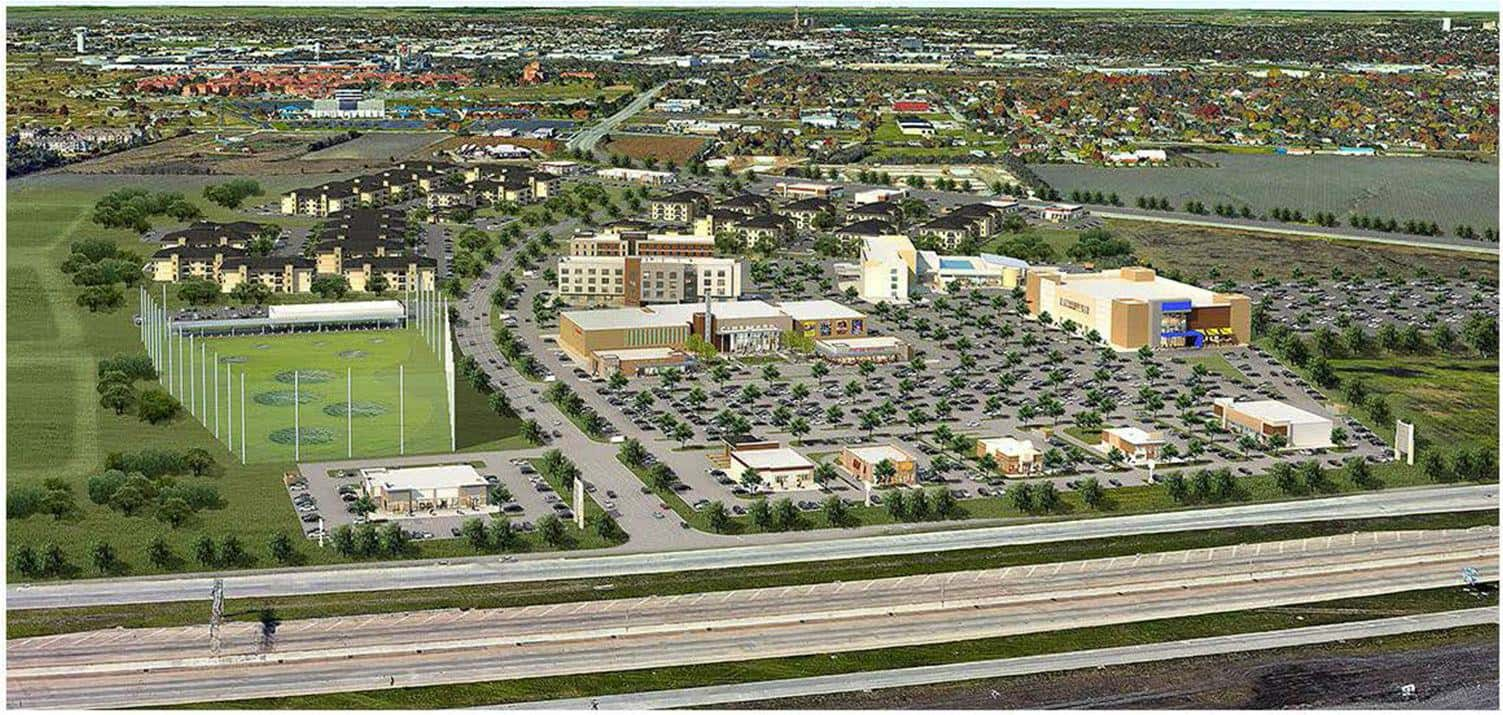 Topgolf, which specializes in creating entertainment and dining venues centered around a high-tech driving range, has confirmed it is considering the Waco market with an eye toward bringing the "Topgolf experience" to Central Texas.
Site plans pending with the city of Waco show a Topgolf along the southbound Interstate 35 frontage road between New Road and Central Texas Marketplace. That is where Plano-based Cinemark and Houston-based NewQuest Properties are collaborating to develop an entertainment complex with gaming, dining options and retail. Later, it envisions a residential subdivision hugging the complex.
Throughout Cinemark's involvement with the site, there have been hints that Topgolf would have a place at the table, possibly a scaled-down version of its massive, multi-story entertainment centers that employ hundreds and offer food and beverage service, big-screen TVs and other amenities in a climate-controlled environment. The prospect of Topgolf being included in the package had Waco City Council members showing increased interest as they considered a $5 million incentive package that would help pay for infrastructure upgrades.
A rendering presented to city officials would appear to show a Topgolf facility adjacent to the 14-screen Cinemark theater.
But now Topgolf has confirmed its interest in Waco.
"We are currently exploring potential expansion in the Waco area for a local Topgolf experience," spokesperson Caroline Jerome said in an email response to questions.
She promised to share more information as it becomes available.
Also, Bobby Horner, who oversees the city of Waco's inspection services department, said in an interview the city has received preliminary site plans for a Topgolf attraction on the proposed Cinemark development site.
Horner declined to discuss the Topgolf site plan in detail, saying it is making its way through the city's review process. Several City Hall departments will pore over specifics and later make suggestions or request clarifications.
He said supporting documents identify Chicago-based ARCO/Murray as general contractor. ARCO/Murray is a Topgolf preferred contractor and has overseen several Topgolf developments. The list includes the three-story Topgolf built in the Salt Lake City, Utah, suburb of Midvale. It was the first to be outfitted with a high-end music venue "in addition to the golf and entertainment complex, high-end bar/restaurant space and roof terrace standard to a Topgolf design."
The venue in Midvale features 100 climate-controlled hitting bays, where players send balls flying onto a driving range while enjoying protection from the elements. The typical Topgolf location provides wait staffers to fill food and beverage orders. TVs are available for viewing. Balls are equipped with microchips to assist with tracking scoring, accuracy and distance.
The Midvale location accommodates 600 guests.
ARCO/Murray also served as general contractor for Topgolf's first Florida location, in the Brandon community near Tampa. It includes about 3,000 square feet of event space, more than 230-high definition TVs, 102 climate-controlled hitting bays, a 215-yard outfield, gaming lounge and rooftop terrace "where live musical acts can perform," the ARCO/Murray website states.
"The facility is now the largest sports bar in the Tampa area, and has created approximately 450 jobs and an expected economic output of $264.5 million over a 10-year period," according to ARCO/Murray.
The company, which has an office in Dallas, also consulted on the Topgolf built at the MGM Grand hotel and entertainment complex in Las Vegas.
Topgolf has 57 locations, including 53 in the United States, three in the United Kingdom and one in Australia. It recently signed a franchise agreement with Sports Entertainment Asia to expand into China.
Texas communities with Topgolf locations include Dallas, Fort Worth, Allen, The Colony, Austin, San Antonio, El Paso, Pharr, Houston-Katy, Webster and Spring, according to its website.
Topgolf historically has targeted larger metropolitan areas, but has begun addressing demand in midsize communities such as Waco. It is looking closely at markets with populations between 100,000 and 500,000, according to a report by restaurantbusinessonline.com. That would appear to make McLennan County, population approximately 254,000, an ideal fit.
Horner said it is his understanding, and that of a colleague in the plan review process, that Waco's Topgolf would reflect the mid-market prototype.
Topgolf did not respond to inquiries about Waco's venue type.
A National Golf Foundation survey conducted for Topgolffound that almost a quarter of new golfers took up the game after one visit to Topgolf and that 75% of nongolfers had their interest in trying a traditional course piqued by their experience at a Topgolf location.
Topgolf's presence would change the game locally, said Kenny Duron, who manages Waco's municipal course, Cottonwood Creek. He said participation, now lagging at local courses and those nationwide, likely would see a boost as young people progress from Topgolf to area tees and greens.
"I would love to see it happen," Duron said.
Cinemark is collaborating with Houston-based NewQuest Properties in its planned development near the Harley-Davidson of Waco dealership and the Flying J travel center. Signs posted there announce the coming attraction.
Austen Baldridge, with NewQuest, said in a recent interview he might be in a better position to discuss the project after Jan. 1.
—— WACOTRIB