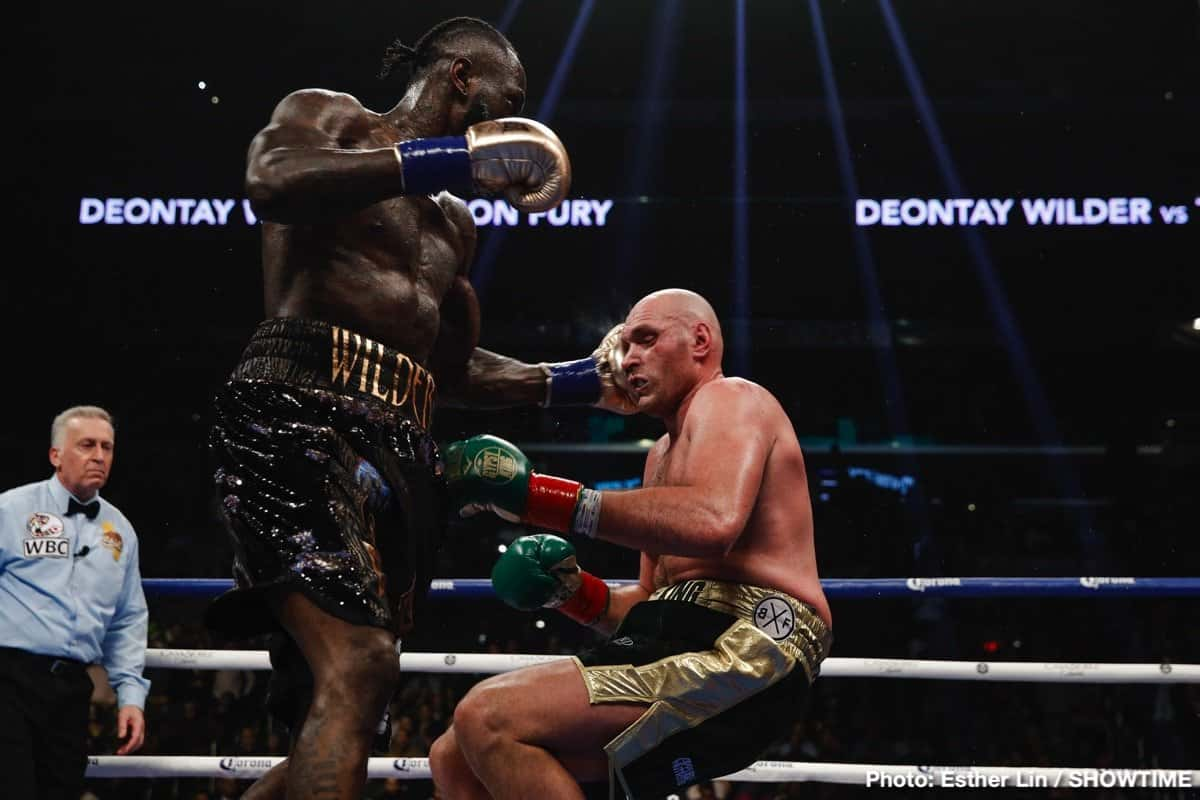 Deontay Wilder says Tyson Fury's invisible lineal heavyweight title that he mentions frequently will DIE with him on February 22nd, because he's NEVER going to mention that to anyone.
Wilder and Fury will be fighting a rematch at the MGM Grand Arena in Las Vegas, Nevada.
Additionally, Wilder (42-0-1, 41 KOs) says he doesn't want the Ring Magazine heavyweight title after he beats Fury (29-0-1, 20 KO), seeing that he views the belt as a Golden Boy Promotions title.
Wilder only cares about his WBC heavyweight title, which he views as the most prestigious belt in boxing. As far Fury, Wilder thinks trying to embellish his credentials out of frustration for failing to defend his REAL belts when briefly held the IBF, WBA and WBO titles after beating Wladimir Klitschko in 2015.
Like Andy Ruiz's problems dealing with sudden overnight success, Fury's life fell apart after beating Klitschko in an upset, and he never defended the belts. They each were stripped from Fury.
Wilder: You won't hear me talking about lineal titles
"No, I won't," said Wilder to Thaboxingvoice when asked if he'll accept Fury's lineal heavyweight title if he beats him. "I don't care nothing for it at all. We only heard about this lineal championship stuff when Fury came out.
"He won the belt from [Wladimir] Klitschko, but never defended it," said Wilder about Fury. "I know that hurts. Even though you had the opportunity [to defend it], but you allowed yourself not to have it, because you wanted to play with your nose.
"That's OK. That was part of your choice drug to use, but you did it a little too much and went over from there," said Wilder. "He never allowed himself to have the opportunity to defend those titles. So now he's trying to have some kind of validation for it. I think it's like holding a bunny at night. He needs to hold his bunny at night, because he's dwelling about how he had the titles, but then did nothing with it," said Wilder.
It's good that Wilder is more focused on being a purest, and not following Fury's lead in bragging about being the lineal champion. Fury beat an over-the-hill Wladimir Klitschko to claim his IBF, WBA and WBO belts in 2015. Unfortunately for Fury, he never defended any of them, and they were stripped from him one by one. However, the one title that wasn't stripped from Fury was the linal belt.
So when Fury came back in 2018 after a 2 1/2 year layoff from boxing, he told fans that he was the "lineal heavyweight champion." A lot of the commentators began to refer to Fury as the lineal champion as well.
Deontay never heard about lineal titles until Fury
"Now he's coming up with this lineal stuff," said Wilder about Fury's attempt to embellish his credentials. "I never heard about it until Fury came out with this crazy s—. Now they're having f— 12 round fights for an invisible belt. I don't know what's going on around here.
"The lineal dies with Tyson Fury come February 22," said Wilder. "It begins with him, and it dies with him, as far as talking about the lineal stuff. I don't care about that. It doesn't mean nothing to me. That ain't even important, at least not in my eyes and many others as well," said Wilder about Fury's lineal title.
It's good that Wilder isn't going to try and pump up his credentials by bragging about being the lineal heavyweight champion if he beats Fury. It's bad enough that Fury has been doing that.
I don't many fans had heard of the "lineal champion' bit until Fury started bragging about it. Some boxing fans felt that Fury's decision to call himself the "lineal" champion was a sign of insecurity. Other fans felt that Fury's rationale for calling himself a lineal champion is to trick the casual boxing fans, who have no clue who the champions are.
Deontay doesn't care about Ring Magazine title
"I don't care about that either," said Wilder when asked his thoughts about the Ring Magazine title. "The Ring Magazine belt. Isn't that a Golden Boy title? Don't Golden Boy run that? Ever since I left those guys, and made a decision for my family, it's just been negativity from them, which is fine. My career has bloomed and progressed, and it's at an all time high.
"Why would I represent something that doesn't represent me or have nothing good about me," said Wilder about the Ring title. "For what? I don't give a f— about that [Ring Magazine title]. I have the best belt [WBC] in the world. The most prestigious and known belt in the world that everyone wants to build their legacy. I know how important it is, and I have that. I'm not worried about anything about this fight and what's on the line.
"I just want to knock Fury out, and raise my hand, and say, 'Still WBC heavyweight champion of the world.' And that should happen, and that's what I'm looking forward to," said Wilder. "I'm, not dwelling on no lineal belt. When I knock him out, you won't hear me talking about no lineal," said Wilder about him not wanting Fury's invisible lineal title.
The Ring Magazine title will likely be given to Wilder automatically once he beats Fury, and it's something he will have regardless. It's interesting that Wilder doesn't care about keeping the Ring Magazine belt, because a lot of fighters have a lot of respect for the belt.
Wilder expects Fury to be the same fighter
"I told him I would knock him out, and I did just that," said Wilder to on Fury. "I think the first fight in having the controversial decision, it already sold the fight. People were just waiting for a time and a date, and once we gave them that, they did their part. I expect to see the same Fury as the first time.
"I don't see anything that he'll be able to change or be able to do," said Wilder in talking about Fury's fighting style. "The only thing he'll be able to change is his weight if he can go up or go down. Other than that, I don't see nothing he can change. When the man came back, he was definitely in shape. Look at the things that he put himself through.
"He always talks about how he was out of shape," said Wilder about Fury saying he wasn't in top shape or their previous fight. "But when you look at the reality, he didn't come back in out of shape. He came back in tremendous shape. You had three training camps, and two warm-ups, and you had five or six trainers in your camp. If that's not a boost or to have so many inspirations to get you in shape, then I don't know what is," Wilder said.
Fury is 31-years-old. There's no way he changes his fighting style at that age, and if he tries to it could be disastrous. If Fury could punch and had blazing hand speed, then he'd have a better chance of finding success with a new style. He did as well as he could with the way he normally fights, and there's no reason for him to change anything.
Fury's decision to change trainers is a waste of time – Wilder
"At this point in time, he's doing a lot of things with his trainers, and I don't understand that," said Wilder in questioning WHY Fury changed trainers. "If you feel that you beat me, as you so claimed, why all this change? Why are you the one doing this change and I'm the one still the same, as far as trainers in my camp? I don't think there's nothing Sugar is going to be able to do to get him ready, because Sugar is not Emanuel [Steward].
"If he was Emanuel, then we'd be talking about some other s—, you know? But he's not Emanuel, and I wish him luck," said Wilder about Fury's new trainer Sugarhill Steward. "It doesn't matter who he gets in camp with him. He's just running his bill up. At the end of the camp, he's going to need to be the one to pay everybody. We're still got the same people, and we got a lot of good things going on in camp.
"May the best man win. I'm glad this rematch is happening," said Wilder. "I was the one that forced the immediate rematch, and he didn't even try and make it happen. He didn't take any high risk to get to this point. He took the safe road. I risked it all in fighting Breazeale, and coming back with a dangerous [Luis] Ortiz. Here we are now. I'm excited for this fight, and excited for February 22," said Wilder.
A lot of boxing fans are asking the same question Wilder is about WHY Fury would want to swap out Ben Davison for Sugarhill Steward. It doesn't make sense unless Fury was worried. Fury was knocked out by Wilder last time they fought, and he should have been given a loss.
Deontay reacts to Joshua offering to help Fury with sparring
May the best man win at the end of the night. Look at these b—," said Wilder in responding to Anthony Joshua wanting to help Fury with sparring. "If you say you're the best, and I say I'm the best. You mother-f— try to team up with each other. I guess it's UK vs. USA. With anything, it builds my confidence up, and allows me to hold my chest out.
When I see guys trying to double team like that and team up, and the world is trying to see who is the best out of this whole thing in the heavyweight division, it makes me feel good," said Wilder about Anthony Joshua wanting to help Fury with sparring. "Hopefully, those guys team up with each other and try and come up with a master plan to try and beat the impossible. I am the first of my kind, and people have to deal with it.
"I'm definitely with Errol on that fight," said Wilder in predicting a win for Spence against Terence Crawford. "Errol will be the bigger fighter, and he may even be the stronger fighter. "But Bud will come in there with a lot of intellect, and he cans witch up his style. He will come in a little bit smaller, and I don't know if that'll play up against him. He'll be a less stronger guy.
"I don't know if that'll play against him as well. I think that while the fight lasts, it'll be an amazing fight. It's one that the world is looking forward to, and another fight that the world wants to see," said Wilder.
Joshua says he wants to help Fury with sparring because he believed it'll be easier for him to get a fight against him than Wilder.
Wilder tells Whyte: 'Continue to pick safe fights'
"Every poodle has its day. As you know a poodle isn't dangerous at all when they're off their leash," said Wilder in responding to the trash talking from Dillian Whyte. "So we're going to let him stay off his leash for a while, and let the poodle continue to bark along, and do what he does to build clout. No one cares about Dillian Whyte.
"Dillian Whyte is not important in my life right now, but when that time comes, you know what I say," Wilder said. "Be careful for what you ask for, and I love mandatories. They're like flies in my ear, and I get rid of them when that time comes. I do think that time will come, especially if he keeps winning. Just continue to pick these safe fights.
"Continue to pick these safe f— fights, because that's what you guys do over there," Wilder said about Whyte. "You pick safe fights, and you want to call my name out, and call me a coward. No one in the world will believe I'm a coward. I'm the baddest man on the planet, and the hardest hitting puncher in boxing history, period. When you do what I do over and over again, you don't have fear of no man," Wilder said.
Whyte has been doing a lot of trash talking about Wilder, saying that he's been ranked #1 with the WBC for over 800 days. Wilder points out that when the WBC ordered Whyte to fight Luis Ortiz in an eliminator, he chose not to take the fight. So naturally, Whyte turning down the WBC's mandated title eliminator has resulted in it taking him longer to get a title shot.
Dillian Whyte had a lot of opportunities to fight me says Wilder
"I'm not worried about any clout chasing he's doing, because if you have any sense in your head, and you're looking at boxing," said Wilder. You'll understand that Whyte had many opportunities to face me. Many strong opportunities to face me, but he didn't want to take none of those opportunities. He didn't want to fight [Luis] Ortiz, especially when the WBC mandated him to.
"There's something about Ortiz that these other fighters don't want to get in trouble with," Wilder said about Whyte choosing not to face Ortiz. "They'll go on and talk about the man is old, but then they'll go back and fight the same guys in the same age range or older. So you can't call one man old, and then fight the same man, and the same age or older without saying he's old.
"I'm super focused. And I'm not worried about what Whyte is saying in trying to get attention. I'm only worried about February 22, and handling unfinished business," said Wilder.
It would have been smart for Whyte to go along with the WBC's decision for him to fight in a title eliminator against Ortiz. You can argue that Whyte's promoter Eddie Hearn enabled him not to take the fight by setting him up in a fight against Dereck Chisora.
The good news is Whyte did eventually did take part in a WBC title eliminator against Oscar Rivas, and he won that fight.
Deontay wants to to target Fury's body
"That's something I stopped doing in the first fight [throwing body punches]," Wilder said about him failing to throw body shots at Fury last time. "I don't know why I stopped going to the body.
"I just stopped. But I'm definitely going to target the body, and we're going to target everything that's open, we're going to hit," Wilder said in discussing his plan to attack Fury's midsection. "The head, the chest, the shoulders. I'm going to try and rip his liver out of there. I was the aggressor in the first fight, and I'm going to be the aggressor in this fight.
"I know he's talking about knocking somebody out, but really when Fury is saying he's going to knock someone out, he's really trying to make you laugh," said Wilder. "We know he has pillows as fists. He's feather-fisted for sure. He ain't knocking anybody out. I'm just looking forward to it. Its exciting, and it's going to be amazing fight," Wilder said.
It might be a mistake for wilder to go after the body of Fury, because he might hurt his hand or get countered. Wilder isn't used to throwing body shots, and he could be vulnerable if he gets caught.
There's nothing wrong with Wilder occasionally throwing a body shot here and there, but not a lot. If Wilder's chin was better, then there would be nothing wrong with him attacking Fury's body.
Fury changing stances to southpaw doesn't worry Wilder
"I'm going to finish him. I promise you," said Wilder on Fury. "I came to camp in shape. I'm always in shape, but when you give me a quick turnaround like that…Fury is in big trouble. These fighters don't have the recipe for beating me. I want him to keep his energy thinking all I have is a right hand. When he comes into this fight, he's going to know this is a different man, and a different person.
"It doesn't matter what position he comes in," said Wilder about Fury possibly changing stances to southpaw. "Even in our first fight, if he switched to southpaw, I don't even remember if he went to southpaw. But if he switched, he switched back immediately. He didn't fight me southpaw. But if he does, I'm ready.
"I just fought one of the most skillful fighters today that was a southpaw in Luis Ortiz. It's not going to matter which style he comes in. And it's not going to matter who's in his corner or what they have going on. It's not going to matter. Come February 22nd, I'm putting Fury out of his misery," said Wilder about Fury.
Knowing Fury, he'll change stances to fight out of the southpaw stance, but it might not help. Wilder just beat southpaw Luis Ortiz, and he's comfortable with fighting those types of guys. It would be risky for Fury to fight southpaw against a big puncher like Wilder.
— BOXING NEWS 24