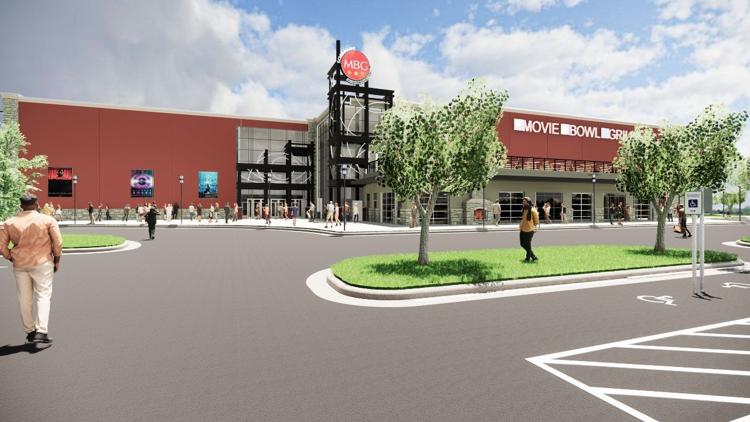 Mark Schulman's Movie Bowl Grille has landed on the back burner. The Waco businessman who last year announced plans for a 90,000-square-foot entertainment center boasting an eight-screen movie theater, bowling lanes and arcade games has yanked the plug, at least for now.
Schulman has not returned calls seeking comment, but Waco real estate agent Bland Cromwell confirmed Schulman did not meet deadlines to proceed with Movie Bowl Grille on investor-owned land Cromwell is marketing at Loop 340 and Interstate 35. The entertainment center valued at up to $30 million would have anchored a mixed-use project.
"We worked really hard on putting that deal together, about a year and a half, but funding was not delivered at the time it was supposed to be delivered," Cromwell said. "I would love for them to issue a statement, to comment on its status. They might say that it is coming, or that it will never come. It's frustrating, but that's the nature of the business."
Cromwell said he now is negotiating with a pair of "retail/hospitality-driven prospects," considerably smaller than Schulman's vision.
"They would take about 15 or so acres, which is just a start, a small bite of a big apple," Cromwell said of the 300-acre tract across Interstate 35 from Central Texas Marketplace. It also lies across Loop 340 from a 640-acre tract owned by the Waco Industrial Foundation. The foundation acquired the land to make it available for commercial and industrial development.
Cromwell markets the 300 acres for a local investment group that, upon Schulman's announcement last year, included Waco businessman Gordon Robinson. Investors bought it from the John Bowden family.
Schulman, whose Schulman Amusement Co. is based in Waco, announced last summer specifics of his Movie Bowl Grille. It would feature an eight-screen digital movie theater with reclining seats, a restaurant called Billy's Grille & Bar, 30 bowling lanes and an amusement center comparable to the popular Dave & Buster's concept thriving in larger markets.
A limited corporation, 58 Aggie Development, would legally control the complex, but Schulman personally would be the driving force. He once operated multi-screen theaters at Lake Shore Drive and I-35 in Lacy Lakeview and in space near Wooded Acres Drive and Valley Mills Drive in Waco. Waco's Movie Bowl Grille would not be Schulman's first. He opened others in Corsicana and Bay City, and most recently in Sherman.
The city, in its calculations, determined Movie Bowl Grille would represent an investment of $25 million to $30 million. Cromwell told the Tribune-Herald the project would serve as centerpiece of a larger development to include a hotel and conference center, high-end restaurants and retail space.
No tax incentives ever materialized as the project stalled.
Assistant Waco City Manager Bradley Ford said this week that Cromwell would be the best person to talk to about Movie Bowl Grille.
Bobby Horner, who oversees the city's inspection services department, said his office did not receive site plans for Movie Bowl Grille.
"It is my understanding it has been put on hold," Horner said.
Waco Councilman Hector Sabido, whose District 2 includes the proposed Movie Bowl Grille location, confirmed it has fallen through.
"There is a sense of disappointment, considering there was a plan to bring something innovative and exciting to the community. I was told ground had not even been broken," Sabido said Thursday. "But there continues to be excitement about the entertainment development across the street, across the interstate, near New Road and Interstate 35. Then there's all that's going on downtown. We still have plenty to toot our horn about."
Sabido said he has not spoken with Schulman, though he would welcome a conversation. He said he does not know why the project stalled.
Schulman's announcement last year came amid confirmation by Cinemark Theatres it would place a 14-screen theater at New Road and Interstate 35 to anchor a mixed-use venture that would include a golf component, restaurants, retail and, later on, a residential development.
Cinemark has submitted plans to the city, Horner confirmed, and Topgolf this week announced it would place there a climate-controlled driving range with a family-oriented area for yard games, picnics, big-screen TV watching and live entertainment. It should open in fall this year, Topgolf said.
Speculation once was rampant on the economic viability of two entertainment centers anchored by multi-screen theaters along I-35.
Cromwell said the Cinemark project "is good for the town," and that he's glad to see a prime piece of real estate on Interstate 35 reach its potential.
"There has been a lot of conversation. Those (Topgolf) guys even looked at our site early on. It just takes someone to pull the trigger," Cromwell said.
— WACOTRIB