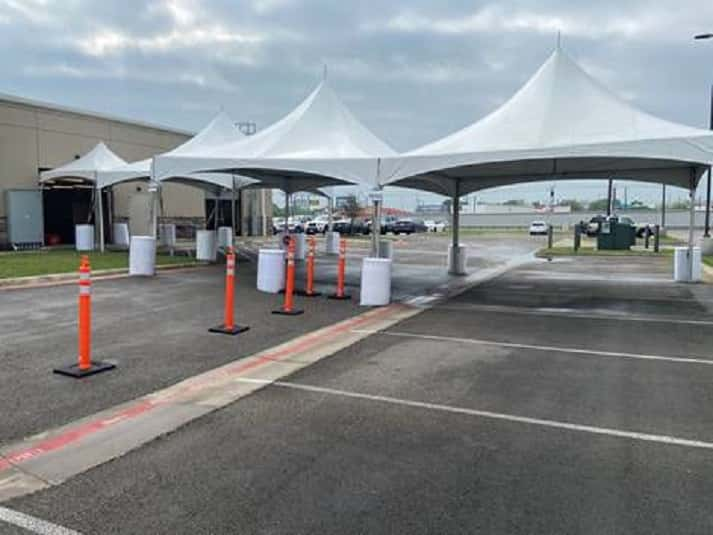 Ascension Providence is expanding its drive-thru COVID-19 testing site in Waco for patients who have been referred there.
The drive-thru testing center is for individuals who are referred to the site by Ascension Providence providers or by the Waco-McLennan County Public Health District, according to an Ascension Providence press release. The testing site is at an undisclosed location away from the hospital and is not available for drop-by patients without a referral.
An Ascension Providence spokeswoman contacted Tuesday said drive-thru testing has been occurring at a smaller scale for several days. She declined to say whether this represents an overall expansion of testing capacity, or how many tests are being performed now.
Until this week, the Waco-McLennan County Public Health District has not received reports from local medical facilities about how many tests they have done through private providers.
Gov. Greg Abbott issued an executive order Tuesday that mandates all health care providers submit daily reports on COVID-19 testing, as well as their bed capacity, to the state health department. Waco Mayor Kyle Deaver's shelter-in-place order Monday also requires local providers to report such numbers directly to the health district.
At the Ascension Providence drive-thru site, patients remain inside their vehicles for the entire visit, while nurses collect a nasal swab. The site is designed so that prescreened community members will not have to leave their vehicle to be tested for the coronavirus, which helps ensure the safety of both patients and health care workers.
Ascension Providence workers are equipped with protective masks and other personal protective equipment and trained in the equipment's proper use. They follow infection prevention protocols based on guidelines from health officials including the Texas Department of State Health Services and the U.S. Centers for Disease Control and Prevention.
For information about Ascension's COVID-19 testing, call the Ascension Texas hotline, 1-833-919-1680.
"The hotline is staffed by triage RNs who will respond to public questions and implement the most up-to-date screenings and protocols to guide patients to the most appropriate care setting, including staying at home and, or virtual options," the news release states.
Baylor S&W
Meanwhile, two local Baylor Scott & White clinics have set up drive-thru clinics for COVID-19 testing as well.
Baylor Scott & White established a free online screening questionnaire to help those with questions about their potential risk for COVID-19 infection. The questionnaire is available on the MyBSWHealth app and at MyBSWHealth.com.
Health officials continue to stress that it is crucial that people without symptoms not seek testing and for everyone to sharpen their efforts at social distancing. Individuals seeking testing should be limited to those exhibiting symptoms, such as coughing, fever and shortness of breath, those who have traveled recently to another state or country experiencing the outbreak or those exposed to COVID-19.
Anyone who meets at least two of those conditions and are referred for testing by a doctor is eligible to be tested under current CDC guidelines. Those with symptoms only are being advised to self-quarantine.
As an additional precaution, both Ascension Providence and Baylor Scott & White implemented no-visitor policies over the weekend, the hospitals said in a press release.
Exceptions will be made for laboring and postpartum patients, patients with disabilities or impairments or who are elderly, patients in the neonatal ICU and pediatric units, patients requiring surgery or other medical procedures, and patients requiring end-of-life care. One caregiver may accompany these patients. The visitor must pass health-screening criteria upon entrance into the facility.