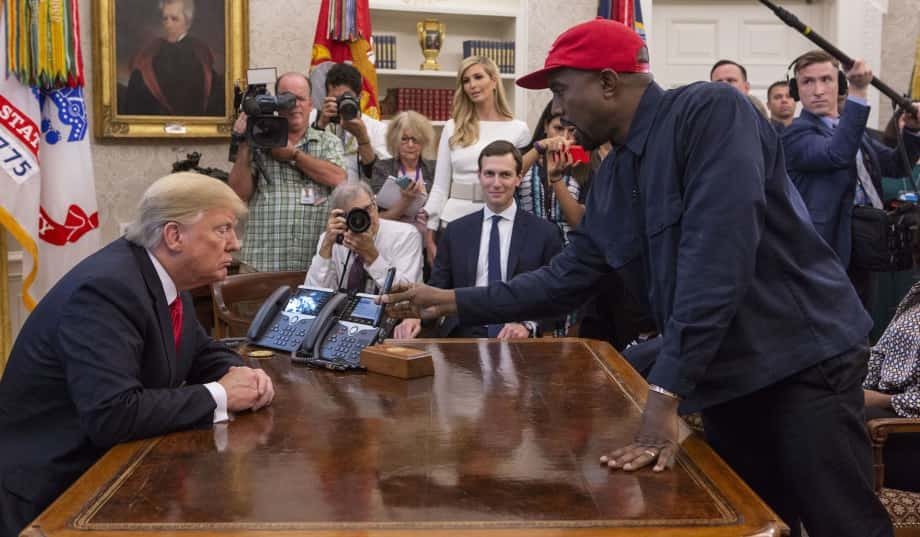 Though it most certainly does not matter anymore at this point, nor is it easy to imagine anyone giving an actual fuck, but Kanye West has again reiterated his affinity for Trump.
"I'm a black guy with a red [MAGA] hat, can you imagine? … It reminded me of how I felt as a black guy before I was famous, when I would walk in a restaurant and people would look at you like you were going to steal something. 'This is your place, Ye, don't talk about apparel. This is your place, Ye, you're black, so you're a Democrat,'" West says in a new Wall Street Journal cover piece, out Wednesday, notably retreading similar comments he's made in the past.
As writer Christina Binkley points out in the piece, West is indeed not registered to vote and "doesn't follow politics," though seemingly none of that has translated to any sort of backing away from the artist's growing history of Trump co-signs.
Other Westian items of note are discussed in the interview, found here, including friend and collaborator ASAP Rocky's Sweden lock-up. West, per the piece, also mentions "in passing" that he's been prepping to record a new album in Mexico this spring.
Elsewhere, West goes deep regarding his ongoing plans for the zeitgeist-shifting Yeezy brand. As West explains it, Yeezy is both "the McDonald's and the Apple" of the apparel world. Just don't rely on the word "ambitious" when discussing it. "I'm just a doer," West insists.
As for Trump, his recent agenda has included saying things and/or not saying things amid COVID-19 containment efforts that have fittingly resulted in widespread criticism. Here's a good example.
— COMPLEX