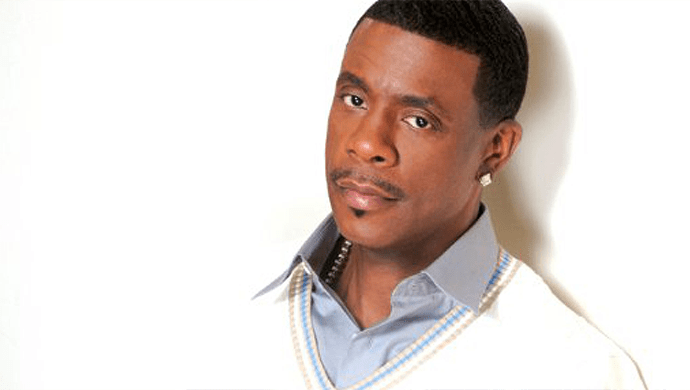 Keith Sweat, (born July 22, 1961) is an American R&B/soul, singer-songwriter, record producer, radio personality and a major contributor to the New jack swing era.
Sweat started his musical career as a member of a Harlem band called "Jamilah" in 1975. After leaving the group in 1984 to aspire for a solo career, he sang at nightclubs throughout New York City and landed a chance to record for the independent label, Stadium Records. Sweat recorded only one tune for Stadium called "My Mind Is Made Up", which was their third ever release, but on Stadium's first release, he is credited as co-writer and co-producer of "You Are The One For Me", the last recording ever made by the group GQ.
On November 25, 1987, Sweat released his debut solo album "Make It Last Forever," which sold three million copies. The biggest hit from this album was "I Want Her" (#1 R&B/#5 Pop), which was nominated for the 1989 Soul Train Best R&B/Urban Contemporary Song of the Year award, while the title track from the album hit #2 on the R&B charts.
Sweat reached the charts again with his second album "I'll Give All My Love to You" (1990) which hit #6 on the Billboard 200 chart, and "Keep It Comin'"(1991) which debuted in the top 20 of the album chart. Sweat released his fourth album "Get Up on It" in the summer of 1994, and his self-titled fifth album in 1996. Both albums reached the top ten on the Billboard 200. The single "Twisted" hit #2 on the Billboard Hot 100 and "Nobody" hit #3, which made them Sweat's biggest hits to date.
Sweat's sixth album, "Still in the Game" was released in 1998, hitting #6 on the Billboard 200, and #2 on the R&B/Hip Hop albums chart. It featured the singles "Come and Get With Me" (which featured Snoop Dogg) (#12 Hot 100) and "I'm Not Ready" (#16 Hot 100). On August 13, 2002, Keith Sweat released his ninth album, "Rebirth." The single "One on One" reached #75 on the Billboard Hot 100 and #44 on the Hot R&B/Hip-Hop Singles & Tracks chart. His 2008 album "Just Me" featured the single, "Love U Better" (featuring Keyshia Cole).
Sweat is currently signed to Kedar Records and released his 10th Studio album entitled "Ridin' Solo" on June 22, 2010. The lead single taken from the album is 'Test Drive' and features label-mate Joe.